TTAV is experiencing heavy censorship on many social media channels since we've been targeted by the mainstream media sellouts, social media bullies, and political turncoats.  Be sure to get the TRUTH by subscribing to our email list.  It's free.

According to an article published by Bloomberg last week, Facebook may soon take steps to reduce or remove access to any content it deems as "anti-vaccination."
The news comes after pressure from lawmakers who blame the social media platform for spreading "misinformation" and contributing to a recent increase in measles. Such a move would not only censor free speech, but it could significantly inhibit our ability to continue the important discussion about the safety and efficacy of vaccines and the pharmaceutical industry.
Facebook has long been a primary platform for users to have open discussion about everything from pop culture and social issues, to government and health news. And while the internet has provided a platform for fake news and misinformation by anyone with a computer, it has also become an important forum for open discussion that is badly needed worldwide.
Unfortunately, the vaccine industry wants to silence anyone who doesn't fly the CDC banner that vaccines are "safe and effective."
On Valentine's Day, California congressman Adam Schiff sent a letter to Mark Zuckerberg, the CEO of Facebook that said the following:
The scientific and medical communities are in overwhelming consensus that vaccines are both effective and safe. There is no evidence to suggest that vaccines cause life-threatening or disabling diseases, and the dissemination of unfounded and debunked theories about the dangers of vaccines pose a great risk to public health."
This, of course, is absurd. There is evidence that vaccines can cause injury or even death. For proof, look no further than the Vaccine Injury Compensation Program, which despite unfair burden on plaintiffs has paid out over $4 billion since its inception. What's more, there are many who are simply calling for greater accountability from manufacturers, doctors, and oversight bodies.
But in America, if you question vaccines in any way, you're branded as a lunatic – an anti-vax menace to society. And that's because there's so much money in vaccines that any doubt about their safety or efficacy could cost billions in revenue.
And while we agree with limiting the spread of misinformation, we can't throw the baby out with the bath water. It is absolutely imperative that we keep an honest conversation about vaccine safety going. And frankly, mainstream media just isn't going to give you all of the information you need to make an informed decision for your family.
Facebook says it's looking for ways to address the problem, including "reducing or removing this type of content from recommendations, including Groups You Should Join, and demoting it in search results, while also ensuring that higher quality and more authoritative information is available."
We hope that Facebook will give proper consideration before implementing these kinds of changes. At TTAC, we provide peer-reviewed research and documented testimony from experts regarding the broken system for testing and administration of vaccines. But despite our extensive research, we've already been branded and clocked from social media platforms. Pinterest recently deleted our account, without warning, for violating their "misinformation policy," which includes "anti-vaxx" advice.
Ironically, we have never told our readers what to do regarding vaccination, nor have we condemned anyone who chooses to vaccinate or not vaccinate their children. Our mission is to bring the truth, and we're here to give you the facts, not to tell you what to do.
And Pinterest is not the first to wage war on vaccine information freedom. YouTube, a division of Google, recently made changes to its video platform after being accused of spreading "misinformation." They've removed several videos from their recommendation system to appease political figures crying foul. But information that doesn't fully support the safety and efficacy of vaccines isn't always fake news.
In fact, head over to YouTube and search "vaccines." One of the top results is an episode from our documentary series The Truth About Vaccines, which provides expert testimony and research that questions the way in which vaccines are tested and approved. Is this "misinformation?" Is it "a great risk to public health?"
No.
And this is a bipartisan issue. While the CDC, vaccine manufacturers, and politicians with financial ties to the industry continue to attack anyone who speaks out against claims that vaccines are 100% safe and effective, both liberal and conservative public figures aren't sold. When it comes to true health and vaccine safety, there is not a political line in the sand.
Jenny McCarthy, Jim Carrey, Robert F. Kennedy Jr., and even President Trump have all spoken out against the ever-increasing childhood vaccine schedule, raising serious questions about the safety and efficacy of vaccines. These people are not "anti-vaccine" or "anti-science," they simply have questions about the way the system works.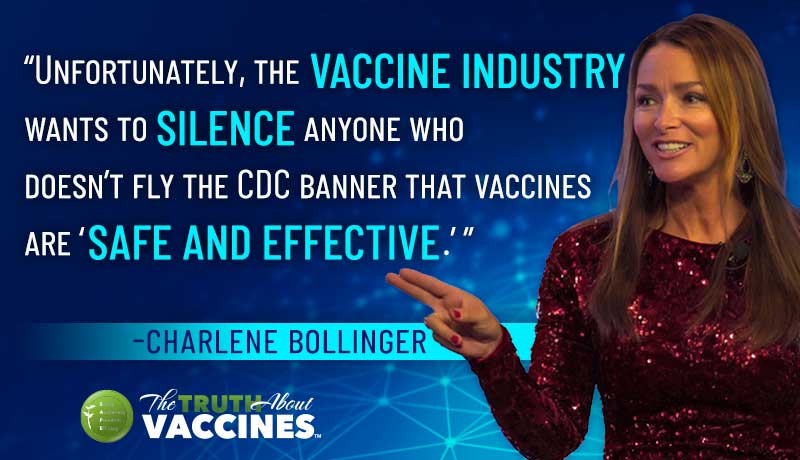 Here are a few quick facts about vaccines:
#1. Vaccines have not been proven to be safe. New vaccines are routinely tested against confirmed dangerous ones in order to arrive at what appear to be positive outcomes, and the timeline for these studies is significantly shorter than for other drugs seeking FDA approval.
#2. There's too much money being pumped into the system by the pharmaceutical industry. Those who serve in the CDC Immunization office are often rewarded with lucrative jobs by some of the industry's biggest companies, including Merck, who has been repeatedly accused of defrauding the U.S. government but continues to be one of the leading manufacturers of U.S. vaccines.
#3. Vaccines use preservatives that are known to be dangerous. Many vaccines are accompanied by adjuvants like aluminum and mercury. These toxic substances can wreak havoc on the immune system and have been linked to a host of diseases. There is evidence that these preservatives cause a number of health issues, including autism.
#4. Infant immune systems are not equipped to handle the load that the current vaccine schedule presents. In order to develop healthy gut bacteria, infant immune systems are initially suppressed. The massive load of toxic adjuvants and antigens put the infant body on defense, preventing healthy gut bacteria and permanently damaging the child's immune system.
#5. Vaccine manufacturers are not liable for harm caused by their products. Lobbyists have pressured the government, claiming that to NOT make vaccines available is unethical. That's why there are no studies comparing vaccinated and unvaccinated populations. If you or your family are injured or killed by vaccines, you have to go through the Vaccine Injury Compensation Program, where you essentially sue your own government for the negligence of private corporations.
#6. Freedom of information is under assault. Politicians who question vaccine safety are quickly silenced, and expert witnesses are dismissed and misrepresented if their findings don't support the vaccine industry. Now we're seeing social media platforms caving to pressure by silencing anyone who speaks out against the CDC schedule, safety testing standards, or the millions of dollars the industry spends on lobbying efforts.
Facebook needs to take a stand in defense of free speech. With over 2 billion users across all of its platforms, Facebook may be one of the most important venues for open discussion about vaccine safety. The conversation about vaccines is important, and if we can't have an open dialogue, nothing will change.

Ty and Charlene have been on this mission together to reach as many people around the world with the truth that saves lives as they can, and
they need your help!
As you know, they are being censored with many other truth tellers.Please support their mission by
sharing this article
! Next, you can support them by going to
www.thetruthaboutcancer.com
and
signing up
for their FREE Newsletter!Also,
join Ty & Charlene
on Alt Social Media platforms where the TRUTH is allowed and join the discussion there!
Follow, Subscribe, & SHARE: