TTAV is experiencing heavy censorship on many social media channels since we've been targeted by the mainstream media sellouts, social media bullies, and political turncoats.  Be sure to get the TRUTH by subscribing to our email list.  It's free.

Last week, the U.S. Food and Drug Administration (FDA) approved VAXELIS, a new 6-in-1 combo vaccine. The new drug, produced as a collaborative effort by pharmaceutical giants Merck and Sanofi, claims to prevent diphtheria, tetanus, pertussis, poliomyelitis, hepatitis B, and invasive disease due to Haemophilus influenzae (H. influenzae) type b.
The vaccine has been approved for infants as young as 6 weeks old and will be administered in a series of 3 doses between 6 weeks and 4 months of age.
As the vaccine schedule for children continues to inflate, we need to start asking better questions. Is this vaccine safe? Is it effective? Are developers adequately testing these drugs before going to market? At 6 weeks, are infants equipped to handle the increasing burden of vaccines being mandated by the Centers for Disease Control (CDC)?
Here's what you need to know about the new combo drug:
About VAXELIS
VAXELIS is the first hexavalent (six vaccines in one) drug to be approved in the U.S. and is being hailed as the solution to the increasing number of injections children receive during physician visits. In their first year of life, children routinely receive over 25 vaccines, some administered just hours after birth. Safety concerns have continued to grow as increasing evidence points to vaccines as a cause of many childhood illnesses and even death. The efficacy of these drugs has been hotly debated, though the CDC states unequivocally that vaccines are both safe and effective.
Unfortunately, the standards for safety testing vaccines are significantly lacking. For starters, vaccinated patients are not tested against an unvaccinated control group, but rather against patients vaccinated with other drugs. New vaccines are routinely tested against confirmed dangerous ones in order to arrive at what appear to be positive outcomes. Without a control group, these studies are incapable of accurately measuring the frequency and causal relationships of the vaccines they study.
The duration of these studies is also much smaller than any other drug seeking FDA approval. While most drug studies last for months or even years, vaccines are only evaluated for a few days or weeks. There's evidence that the preservatives in these vaccines, like aluminum and mercury, are directly related to the alarming rise in autism diagnoses in America.
Additionally, manufacturers in the U.S. are relieved of any liability for injury or death resulting from their products. Plaintiffs are not able to sue the manufacturer for damages but are instead required to go through the Vaccine Injury Compensation Program (VICP), in which victims end up suing their own government in a specially appointed court. The lack of adequate studies makes it hard for plaintiffs to prove that vaccine manufacturers are at fault. And as long as the manufacturer isn't aware of any harmful effects, they retain immunity against legal action. This has resulted in a system in which it is in the company's best interest NOT to conduct thorough safety studies. Ignorance is bliss.
The limited research on the adverse effects of VAXELIS showed some troubling trends, and several children died after receiving the combo vaccine. Lethal side effects included asphyxia (loss of breathing), excess fluid in the brain, "unknown causes", and Sudden Infant Death Syndrome (SIDS). Somehow, none of these fatalities were attributed to the vaccine, including half that had no other attributable cause. You can read the full insert here.
Reclassifying causes of death has directly contributed to the ability of vaccine manufacturers to avoid blame for lethal side effects. Sudden Infant Death Syndrome, previously known as "Crib Death," was virtually nonexistent in infant mortality reports before the active push for childhood vaccination in the 1960s. SIDS has been repeatedly reclassified, which is why studies on vaccine safety fail to attribute these fatalities to the vaccines in question.
What's more, the increase in vaccines administered hasn't led to a decrease in infant mortality. According to a review published in 2011, 33 nations have lower rates of infant mortality, despite the U.S. recommending more childhood vaccinations than any other country in the world. The study elaborates:
…two-thirds of babies who had died from Sudden Infant Death Syndrome (SIDS) had been vaccinated against DPT (diphtheria–pertussis–tetanus toxoid) prior to death. Of these, 6.5% died within 12 hours of vaccination; 13% within 24 hours; 26% within 3 days; and 37%, 61%, and 70% within 1, 2, and 3 weeks, respectively. Torch also found that unvaccinated babies who died of SIDS did so most often in the fall or winter while vaccinated babies died most often at 2 and 4 months—the same ages when initial doses of DPT were given to infants. He concluded that DPT 'may be a generally unrecognized major cause of sudden infant and early childhood death, and that the risks of immunization may outweigh its potential benefits.'"
This is especially interesting because the package insert that accompanies the vaccine (which most patients will never see) uses similar language regarding adverse effects, recommending that parents evaluate the risks of immunization against its benefits. But how accurate are these studies?
According to the vaccine insert:
Because clinical trials are conducted under varying conditions, adverse reaction rates observed in the clinical trials of a vaccine cannot be directly compared to rates in the clinical trials of another vaccine and may not reflect the rates observed in practice. The adverse reaction information from clinical trials does, however, provide a basis for identifying the adverse events that appear to be related to vaccine use and for approximating rates of those events."
Even the creators of this new vaccine admit that the research is not adequate.
Additional problems were reported, including immune disorders, extensive swelling of injected limbs, and seizures. These effects weren't factored and were considered to not be related to the vaccine. According to the vaccine insert:
Because these events are reported voluntarily from a population of uncertain size, it is not possible to reliably estimate their frequency or establish a causal relationship to vaccination."
There are other issues with these studies. Both participants and the "control" groups received various additional vaccines, rendering potentially important data statistically insignificant. The control vaccine also had reports of seizures, convulsions, immune disorders, and insufficient oxygen in the blood. Hardly a high bar to set.
And because VAXELIS was compared with and against a vaccine known to cause these adverse effects, it is impossible to determine if these problems are a direct result of the combo drug, or simply a known problem with the control drug.
Adverse effects were also self-reported by parents, further reducing the accuracy of the studies. Rather than being monitored by medical professionals following vaccination, these children were sent home. Untrained parents were then responsible for monitoring and accurately reporting adverse effects in their children.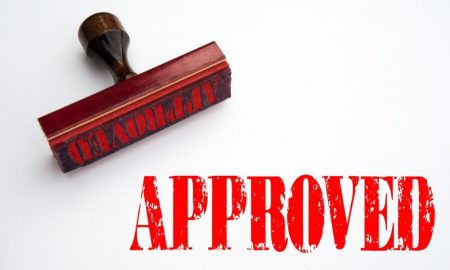 Still, the drug was approved, and will soon be administered to millions of young children.
About Merck and Sanofi
With so little information on the safety and efficacy of these vaccines, it's worth looking at the manufacturers. Ethical companies often go above and beyond to ensure that their products are safe for consumers. Unfortunately, this is not the case when it comes to VAXELIS.
Merck and Sanofi, the companies responsible for the development and safety testing of VAXELIS, are major players in the pharmaceutical industry. Both companies have poor track records when it comes to ethics and consumer safety.
Merck is one of the biggest vaccine manufacturers in the U.S. and has been involved in several lawsuits alleging misconduct, falsifying research, and influencing government oversight. One ongoing lawsuit began in 2010, when 2 former employees accused Merck of defrauding the U.S. government by selling 4 million doses of mislabeled MMR vaccine and contributing to recent outbreaks of mumps caused in part by their ineffective vaccine.
The CDC's claim that vaccines do not cause autism is largely based on a study conducted in 2004, overseen by senior scientist William Thompson. In 2014, Thompson confessed that the agency actively destroyed any data linking Merck's MMR vaccine to autism, stating that
The omitted data suggested that African American males who received the MMR vaccine before age 36 months were at increased risk for autism."
The woman in charge of the CDC's Immunization Safety Office helped to keep Thompson quiet, insisting on the safety of the vaccine. She later took a job with Merck with a salary and stock options worth millions.
And the MMR isn't the only vaccine for which Merck has been accused of fraud. The HPV vaccine has more documented cases of adverse reactions than any other vaccine in the world but is still regularly administered in the United States. Merck has been sued and stands accused of aggressively marketing their HPV vaccine, GARDASIL, while deliberately withholding information regarding its safety from consumers and federal agencies.
Merck's partner is no better. Recently, Sanofi payed over $100 million to settle allegations that they had violated the False Claims Act by offering kickbacks to physicians who purchased or prescribed their products. As if relaxed research standards and removal of liability for their products weren't enough, Sanofi is just another major pharmaceutical group engaging in deceitful marketing practices and bribery to maximize profits. The health and wellbeing of consumers doesn't seem to be a concern for these pharma giants at all.
Profits over patients.
About Infant Immune Development
In addition to safety concerns and the atrocious track record of the manufacturers, we also need to ask ourselves: how does injecting 6 different antigens into a 6-week old infant effect long-term development? Despite CDC insistence that vaccines are the only way to protect young children from disease, there is evidence that these vaccines can prevent the development of the body's natural immune system.
You see, infants are born with very susceptible immune systems. In fact, for the first month or so, most of the baby's immunity is passed on from the mother. Their immune systems develop over time as they encounter various viruses and germs, but the process takes time. Infants have weak immune systems that can be compromised by such a heavy load of antigens and toxins at such an early age.
Suppressed immune response helps infants develop healthy gut bacteria, which is essential for building a strong immune system. But vaccines work by using toxic adjuvants – like aluminum and mercury – to induce an inflammatory response.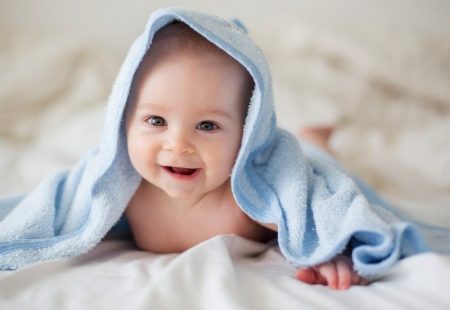 This puts the immune system on the defense during a critical time during which healthy bacteria need to be introduced to promote healthy gut flora. The body is shocked into a protective mode that prevents the healthy bacteria from getting in.
Many doctors support the idea that immunization protects infants during a vulnerable period in their immune development, but the truth is that this barrage of vaccines can permanently and negatively affect the child's development, resulting in metabolic disease, allergies, and autoimmune disease.
We've covered the way that the media has attacked and censored anyone who questions the safety and efficacy of vaccines. In an industry that generates billions of dollars in annual revenue, the ability to write the narrative on vaccines is substantial. And while the new combo vaccine is being touted as a medical breakthrough, children continue to become ill and die, and Big Pharma continues to profit.
We need to demand more from these companies, from the government agencies charged with their oversight, and from media that continues to silence those who ask questions. Currently, all 50 states require vaccination before children are permitted to attend school, creating a medical militia that forces parents to inject their children with poorly tested, unproven, and toxic substances in order to participate in our society. Informed consent is virtually nonexistent due to insufficient research standards, media censorship, and rampant fraud among manufacturers.
We believe that everyone has the right to decide what goes into their bodies. From vaccines, to chemotherapy and GMOs, our ability to make informed decisions is under constant attack. At TTAV, we will continue to provide information that Big Pharma doesn't want you to know. We'll continue to cover breaking medical news, provide information on natural therapies to treat and prevent disease, and continue our quest for the truth.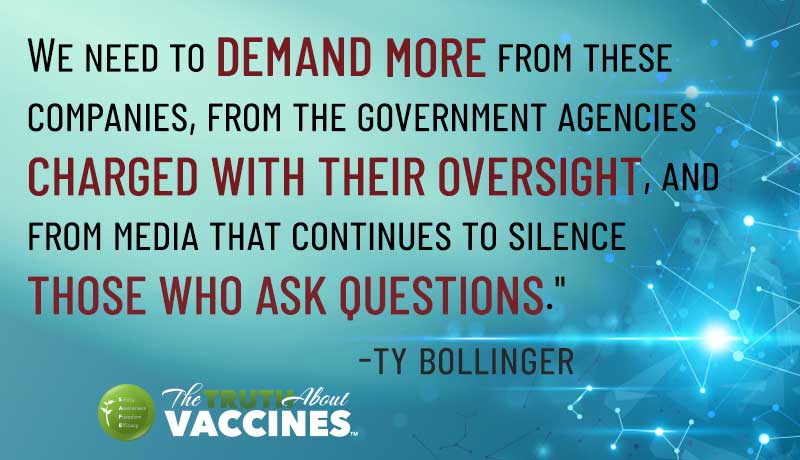 Ty and Charlene have been on this mission together to reach as many people around the world with the truth that saves lives as they can, and
they need your help!
As you know, they are being censored with many other truth tellers. Please support their mission by
sharing this article
! Next, you can support them by going to
www.thetruthaboutcancer.com
and
signing up
for their FREE Newsletter! Also,
join Ty & Charlene
on Alt Social Media platforms where the TRUTH is allowed and join the discussion there!
Follow, Subscribe, & SHARE: