TTAV is experiencing heavy censorship on many social media channels since we've been targeted by the mainstream media sellouts, social media bullies, and political turncoats.  Be sure to get the TRUTH by subscribing to our email list.  It's free.

On Sunday evening, over 19 million people tuned in to watch the Golden Globe Awards, where hosts Andy Samberg and Sandra Oh surprised guests and nominees alike by sending out a team of nurses to administer flu shots.
And while this ridiculous stunt has been seen by millions and discussed at length on social media, there's something else that happened on Sunday that no one seems to be talking about.
On the show Full Measure with Sharyl Attkisson, it was revealed that pro-vaccine expert Dr. Andrew Zimmerman, whose testimony as an expert witness has been used to disprove a link between vaccines and autism, told government officials over a decade ago that vaccines actually can cause autism. The information has been kept secret until recently.
Welcome to Vaccine Court
The question of vaccine safety is a major point of contention in America. While many will claim unequivocally that vaccines are safe and effective, there is mounting evidence that there may be major health risks associated with these vaccines. The problem is that research standards for vaccines are so inadequate that it's hard to know what effects they truly have on our children.
Additionally, the manufacturers of these vaccines cannot be sued. Instead, victims must go through the National Vaccine Injury Compensation Program (VICP). The VICP is a federal "no-fault" program designed to compensate those injured by childhood vaccines. Claims are heard in the U.S. Court of Federal Claims (CFC), which handles monetary claims against the government.
This court has a statute of limitations of 6 years and the government, which is always the defendant in CFC hearings, is represented by the Department of Justice. The VICP is managed by the department of Health and Human Services (HHS) and the money for these claims comes from patient fees associated with vaccines, not from the companies that produce them.
And this is where we meet Dr. Zimmerman.
The Omnibus Autism Proceedings
In the early 2000s, the VICP faced over 5,000 cases alleging that vaccines had caused autism. Rather than hear these cases on an individual basis, the VICP set up the Omnibus Autism Proceedings, in which they examined six cases to determine if there was a link between vaccines and autism. They specifically looked at cases claiming that the measles, mumps, and rubella (MMR) vaccine or any vaccine containing the mercury-based preservative thimerosal might lead to autism.
The proceedings lasted from 2002 to 2010. Dr. Zimmerman was brought in by Department of Justice (DOJ) lawyers as an expert medical witness in support of the defense. Dr. Zimmerman is a pro-vaccine, board-certified, pediatric neurologist and former Director of Medical Research, Center for Autism and Related Disorders, Kennedy Krieger Institute, and Johns Hopkins University School of Medicine.
This doctor is no slouch and has no inherent bias against vaccines.
That's why, in 2007, he made an excellent witness for HHS in the Omnibus Autism Proceedings. And at first, things seemed to be going well. Regarding the case of Michelle Cedillo, Dr. Zimmerman testified that
There is no evidence of an association between autism and the alleged reaction to MMR and Hg [mercury], and it is more likely than not that there is a genetic basis for autism in this child."
It was exactly what the DOJ needed to protect the HHS from a massive liability and to silence any doubt about the vaccine-autism connection.
But then, on Friday June 15th, 2007, Dr. Zimmerman spoke with Vincent Matanoski, the DOJ's lead attorney for the hearings, wanting to clarify his written expert opinion. The following is directly from Dr. Zimmerman's signed affidavit:
I clarified that my written expert opinion regarding Michelle Cedillo was a case-specific opinion as to Michelle Cedillo. My written expert opinion regarding Michelle Cedillo was not intended to be a blanket statement as to all children and all medical science.

I explained that I was of the opinion that there were exceptions in which vaccinations could cause autism.

I explained that my opinion regarding exceptions in which vaccines could cause autism was based upon advances in science, medicine, and clinical research of one of my patients in particular."
Shortly after clarifying his opinion to the DOJ attorneys, Zimmerman was contacted and informed that he would no longer be needed as a witness for HHS. He had been scheduled to testify on Monday June 18th, just three days after his clarification to attorneys.
And you know what? It makes sense that lawyers wouldn't want to use an expert witness whose opinion could be detrimental to their case. But the DOJ took it a step further. After dismissing Dr. Zimmerman, they continued to lean on his written opinion regarding Michelle Cedillo, failing to disclose the clarifications the doctor had made.
Here's an excerpt from Vincent Matanoski's closing statement in another case during the Omnibus Autism Proceedings:
I did want to mention one thing about an expert who did not appear here, but his name has been mentioned several times, and that was Dr. Zimmerman.

Dr. Zimmerman actually has not appeared here, but he has given evidence on this issue, and it appeared in the Cedillo case. I just wanted to read briefly – because his name was mentioned several times by Petitioners in this matter – what his views were on these theories, and I'm going to quote from… the Cedillo case."
He went on to recite Dr. Zimmerman's case-specific testimony without any mention of the doctor's clarifications. In fact, Matanoski was even so bold as to say, "We know his views on this issue." And so, the expert medical opinion of Dr. Zimmerman was deliberately used out of context to help the HHS win a landmark proceeding which resulted in a formal ruling that vaccines do not cause autism.
Dr. Zimmerman's affidavit was signed in September 2018 and is just now coming into the light. Robert F. Kennedy Jr., an attorney and vaccine safety activist, has called it "One of the most consequential frauds, arguably in human history."
According to Attkisson, Kennedy was "instrumental" in Dr. Zimmerman's decision to come forward and document his claim against the DOJ. Kennedy has since filed a fraud complaint with the Justice Department Inspector General.
Vaccine Safety Initiatives… Where Are They?
Government agencies like the Centers for Disease Control (CDC), which is a department of HHS, have continued to promote vaccines and insist that they do not cause autism. The fact that the government's expert medical witness has confirmed that vaccines can cause autism and have caused autism has never been made public.
This news is not being covered by the media. In fact, finding any reputable coverage on the doctor's affidavit is next to impossible. And I get it. If you question vaccine safety, you will immediately be branded as a lunatic; a dangerous, conspiracy-theorist quack. But if vaccines are so safe, and if there really is no connection between vaccines and autism, then why did the DOJ commit fraud against the American people?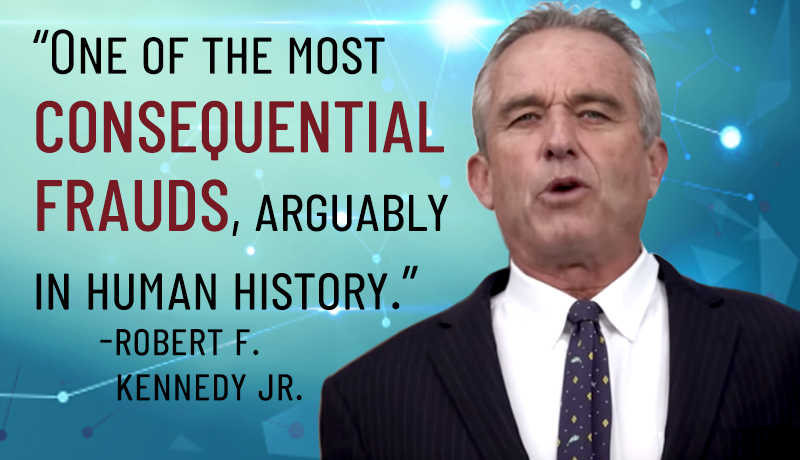 The report featured several current and former politicians. All of them said that the pharmaceutical industry has given so much money to people on Capitol Hill that it is nearly impossible to initiate vaccine safety initiatives. Florida Congressman Bill Posey says that he doesn't know if there's anyone more powerful than the pharmaceutical industry, and that leadership in his own party have twice promised to hold vaccine safety hearings "only to scuttle them in the end."
You can be proactive by writing your congressional leaders and demanding that we take a closer look at the science.
You can demand transparency from your leaders when it comes to the money they receive from Big Pharma.
You can demand that Dr. Zimmerman and Vincent Matanoski be subpoenaed and questioned so that we can get real answers.
The pharmaceutical industry may be pumping money into Washington, but our elected officials still work for the American people. It's time for us to speak up.
Go here to find out which politicians represent you.

Ty and Charlene have been on this mission together to reach as many people around the world with the truth that saves lives as they can, and
they need your help!
As you know, they are being censored with many other truth tellers. Please support their mission by
sharing this article
! Next, you can support them by going to
www.thetruthaboutcancer.com
and
signing up
for their FREE Newsletter! Also,
join Ty & Charlene
on Alt Social Media platforms where the TRUTH is allowed and join the discussion there!
Follow, Subscribe, & SHARE: