TTAV is experiencing heavy censorship on many social media channels since we've been targeted by the mainstream media sellouts, social media bullies, and political turncoats.  Be sure to get the TRUTH by subscribing to our email list.  It's free.

We live in a world where the standard of care includes mandatory vaccinations, the number of which is increasing at an alarming rate. Now Pinterest, one of the largest social media platforms on earth, is silencing anyone who dares to question vaccines or suggest natural and holistic approaches to better health.
Recently, we received an email from Pinterest that many of our friends and fellow natural health researchers have received: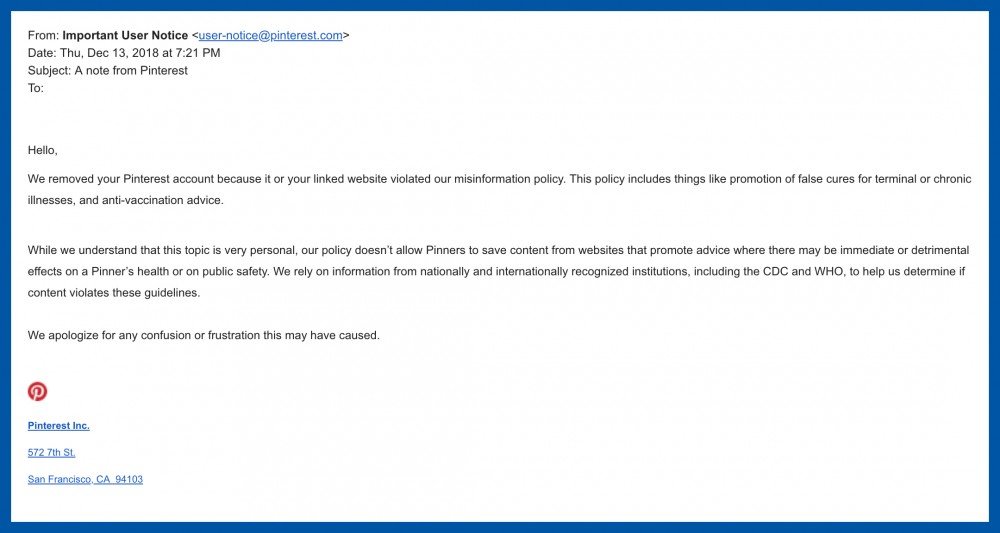 Hello,

We removed your Pinterest account because it or your linked website violated our misinformation policy. This policy includes things like promotion of false cures for terminal or chronic illnesses, and anti-vaccination advice.

While we understand that this topic is very personal, our policy doesn't allow Pinners to save content from websites that promote advice where there may be immediate or detrimental effects on a Pinner's health or public safety. We rely on information from nationally and internationally recognized institutions, including the CDC and WHO, to help us determine if content violates these guidelines.

We apologize for any confusion or frustration this may have caused."
And just like that, our account, which provided valuable resources and peer-reviewed studies to tens of thousands of people, was deleted. And we aren't alone. Mercola.com, GreenMedInfo.com, the National Vaccine Information Center, Health Impact News, ChrisBeatCancer.com, and hundreds more have had their accounts removed for "violating community guidelines."
According to Pinterest, the information these users provide is a public health risk and contradicts the CDC. The fact that the natural health community has shared nearly 100,000 peer-reviewed and published studies doesn't seem to make a difference. If you question the efficacy of vaccines or the CDC, you can kiss your account goodbye.
We have filed an appeal with Pinterest and have received no response.
Sayer Ji, our good friend and founder of GreenMedInfo.com, believes this could be due to the changing attitude towards vaccines. He cites an article published in the journal Vaccine in which researchers found nearly 75% of Pinterest posts related to vaccines were critical or negative – up from only 25% just 15 years ago. When it comes to information, the vaccine industry is losing the war.
The reason that organizations like ours exist is to provide information that the medical establishment isn't giving you. Information is powerful, and while the internet can certainly be used to spread misinformation and "fake news," the groups that are being banned publish only information that is rooted in reliable and substantiated medical literature. Apparently, that is not what Pinterest wants.
It feels like we're slowly slipping towards a dystopian nightmare in which a tyrannical medical industry decides what information is allowed and what isn't. Questioning the industry is not allowed. If you're hesitant to inject your newborn with dozens of viruses and harmful adjuvants before their first birthday, you're crazy. Even suggesting that the companies developing these vaccines may not have our best interests in mind will leave you branded a menace to society.
And while the social media platform is a private entity that is allowed to censor its content, targeted removal of those who question the status quo seems off-message for a website whose mission is to "help empower people to discover" things they care about. After all, one could argue that social media is the perfect public forum to share information and discuss ideas.
Just not ideas that go against the CDC, apparently.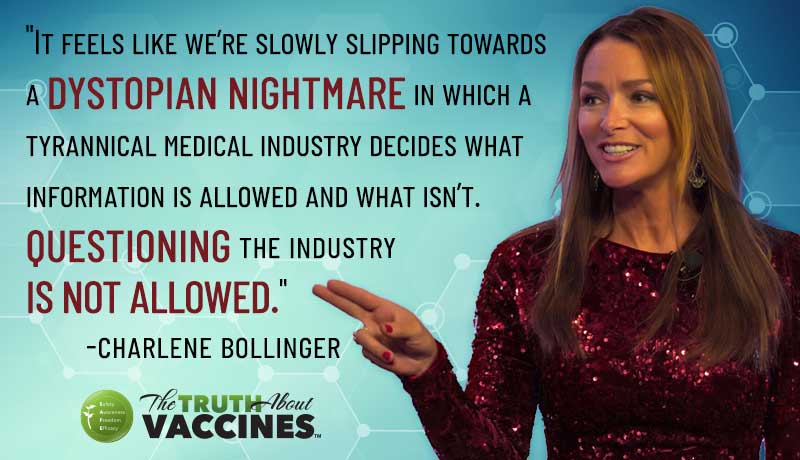 The vaccine industry exists in a bubble, with no requirement for control group studies, extremely short time periods for evaluation, and a judicial system that makes manufacturers impervious to lawsuits should their products cause injury or death. Now it would seem that they need to be protected from open discussion about the problems and conflicts of interest within the vaccine industry.
After all, there's big money in vaccines. Billions of dollars, in fact. And with every child required to purchase and use their products and almost no burden to prove the efficacy or safety, these pharmaceutical companies don't want you second-guessing them. It's important to know what we're putting into our bodies, and we've made it our life's mission to bring you the information that we wish our family had before it was too late.
You can make your voice heard by letting Pinterest know exactly how you feel about their censorship by tweeting at them (@pinterest), or by filing a complaint with Pinterest here. More importantly, we want to make sure that you can always get the information you want, even if social media companies and the medical industry don't.

Ty and Charlene have been on this mission together to reach as many people around the world with the truth that saves lives as they can, and
they need your help!
As you know, they are being censored with many other truth tellers. Please support their mission by
sharing this article
! Next, you can support them by going to
www.thetruthaboutcancer.com
and
signing up
for their FREE Newsletter! Also,
join Ty & Charlene
on Alt Social Media platforms where the TRUTH is allowed and join the discussion there!
Follow, Subscribe, & SHARE: