TTAV is experiencing heavy censorship on many social media channels since we've been targeted by the mainstream media sellouts, social media bullies, and political turncoats.  Be sure to get the TRUTH by subscribing to our email list.  It's free.

Many holistic doctors today believe that the body's natural immune defenses are being compromised due to an increasing focus on vaccinations to protect people from infectious disease. Meanwhile, government bodies, pharmaceutical companies, and hospitals alike often mandate the flu shot and other vaccines for their employees. Not to mention that the general public is constantly bombarded with messages that a public health crisis will occur if vaccines are not utilized.
Public knowledge regarding vaccine dangers and the potential adverse effects, however, is now in the public realm and spreading due to media coverage and sharing on social media. For instance, researcher Dr. Andrew Wakefield published his findings linking developmental disorders and colitis to the measles vaccine. Miss America Heather Whitestone believed that the diphtheria, tetanus, and pertussis vaccine caused her to go deaf. Her story, along with others during the time, went viral in the media and gave rise to the public concern that vaccinations can potentially harm health.
Pro-vaccination organizations like to blame the increasing opposition to vaccines by the public on overly publicized "urban myths." So who's right? Are these vaccine dangers, particularly when it comes to aluminum, fact or myth?
You can make an informed decision about the health benefits and risks of vaccines by first understanding what components make up a vaccine, as well as its physiological impact.
Vaccines Weaken Natural Immunity
The maximum concentration of aluminum allowed in a vaccine today is 0.85 mg and was established by the FDA to limit exposure risks. However, as a result of normal vaccination procedures, babies receive up to 4 mg of aluminum before they reach six months of age.
At a conference held by the National Vaccine Information Center in 1987, world renowned immunologist Dr. High Fudenberg presented his research. He shared that receiving the flu vaccine 5 years in a row would increase one's risk of developing Alzheimer's disease by tenfold compared to having less than 2 shots. His statement was founded from his research that showed that the mercury and aluminum found in the flu shot accumulates in the brain leading to cognitive impairment.
Since this time, many other immunologists agree that vaccines are not only weakening the human body's natural immunity but also leading to disastrous complications further in life. The understanding of the natural immune system defenses to produce antibodies in order to protect against foreign agents cannot be replicated with a vaccination.
Research from the 1930s found aluminum to be an effective foreign substance that awakens the immune response to produce antibodies. To date, this antigen response has still never been fully analyzed and remains poorly understood.
Vaccination Health Hazards Remain Unknown
Promoters of vaccinations argue that vaccines are safe − in spite of having few to no long term established studies. Given neurological diseases are linked to vaccines over and over again in research, the only foundation for their argument is to question causality and subsequently propose no absolute cause for the development of an abnormal condition.
Yet there is an abundance of research establishing a definite link between aluminum and the development of neurological disease. Aluminum toxicity has been shown to inhibit energy production in the form of ATP and cause abnormal mitochondrial functioning. In one study, the biological impact of aluminum increased the synthesis of fat by altering metabolic activity and creating oxidative stress. Such factors including cell changes and the buildup of lipids are believed to induce neurological stress.
The average daily exposure of aluminum by an individual is about 3-5 mg and healthy individuals are believed to have stores of about 30-40 mg. Individuals with weakened immune systems are more susceptible to aluminum toxicity because of the body's inability to effectively filter out the metal. This may have an implication on infants and children with developing bodies and immune systems, as well as individuals with autoimmune complications, and the elderly.
How Is Aluminum From Vaccines Moved Through the Body?
Pro-vaccination studies note the decrease in aluminum from the blood as well as from the injection site but do not account for its whereabouts thereafter. Aluminum that reaches the bloodstream is able to circulate and be distributed amongst various body tissues. Studies show that aluminum injected intramuscularly via vaccines is distributed to the lungs, bone, kidneys, spleen, liver, heart, lymph system, and brain.
The amount that is retained by an individual is directly correlated to one's vaccination regimen. The first documented adverse effects of the burden of aluminum build-up in the body was a result of dementia associated with patients who had renal failure. This response is found in individuals who cannot normally eliminate aluminum from the body as is a function performed by the kidneys.
Vaccines Containing Aluminum
Each year the CDC provides a list of ingredients that the FDA allows in vaccinations. Some of these ingredients are called "adjuvants" which serve the purpose to stimulate an immune response. Aluminum adjuvants are found as either aluminum gel or aluminum salts such as aluminum hydroxide, aluminum potassium sulfate, and aluminum phosphate.
The second type of adjuvant containing aluminum used in U.S. vaccines is AS04 which is found in the Cervarix vaccine intended to protect against genital human papillomavirus (HPV). This vaccine contains a combination of both monophosphoryl lipid A and aluminum hydroxide.
The following forms of aluminum are found in vaccines against various forms of hepatitis, DTaP (diphtheria, tetanus and pertussis), encephalitis, meningococcal meningitis, pneumococcal disease, anthrax, and vaccination boosters:
Aluminum Hydroxide
Aluminum Phosphate
Aluminum Hydroxyphosphate
Potassium Aluminum Sulfate
Amorphous Aluminum Hydroxyphosphate Sulfate
Aluminum Potassium Sulfate
Aluminum Lake Dyes
Adverse Effects from Aluminum Containing Vaccines
Research shows that the lymphatic system is able to relocate aluminum injected into a muscle into distant organs in the body. A study done with a group of 357 healthy individuals found that those who received aluminum-containing vaccinations had an increase in reported side effects − as noted through hospital admission records, reports, and participant diary notes.
This same study also reported that vaccine side effects were greater in younger and older participants. Data also showed that given the reduced immune response that resulted post-vaccination, the greatest immune response was detected 41 days following vaccination and inflammatory responses were dose dependent.
Adverse health effects resulting from aluminum adjuvants include the following:
Local effects such as pain, tenderness, and swelling at injection site
Weakened natural immune response
Aluminum induced allergic reactions such as dermatitis
MMF (macrophagic myofasciitis) associated with aluminum retention and toxicity at injection site
Developmental abnormalities associated with fetal development such as spina bifida
Liver associated disorders
Fatigue
Depression
Behavioral changes
Learning impairment
Memory loss
Can Vaccines Cause Neurological Dysfunction?
One of the first studies of its kind conducted in 1992 showed the accessibility for aluminum to cross the blood-brain barrier posing its greatest physical threat on the human body. Findings of the neurotoxic effects of aluminum was published by The New England Journal of Medicine in 1997. The study showed that aluminum accumulates into toxic levels in the brain, blood and bones of infants.
Aluminum accumulation in the brain is shown to influence genetic factors increasing the expression of genes that alter the genetic code, cause neuroinflammation, and affect distant physiological pathways resulting from aluminum infection on the central nervous system response. Such disastrous neurological abnormalities are implicated in the exponentially increasing diagnosis rate of Parkinson's, Alzheimer's, ALS, and other neurodegenerative diseases.
There is little to no doubt from the plethora of evidence in scientific studies that aluminum toxicity is part of the stress induced in the brain that causes neurodegenerative diseases.
Aluminum Toxicity and Breast Cancer
Age is a common risk factor for the accumulation of aluminum in body tissue. It's unavoidable in its small concentrations from natural source contamination from the Earth around us (including in the food we eat) − aluminum builds up in our tissue over time and is increased with vaccine exposure.
The exposure of aluminum salts found in deodorants has been associated with the rise in breast cancer for over a decade. Studies show that aluminum salts interfere with gene expression associated with an increase in human breast cancer cells. Despite much of this evidence, aluminum salts are still approved by the FDA for their use in vaccines.
Given the knowledge of how aluminum is taken up by the body and the biological consequences it poses to human health, why is aluminum in our vaccines?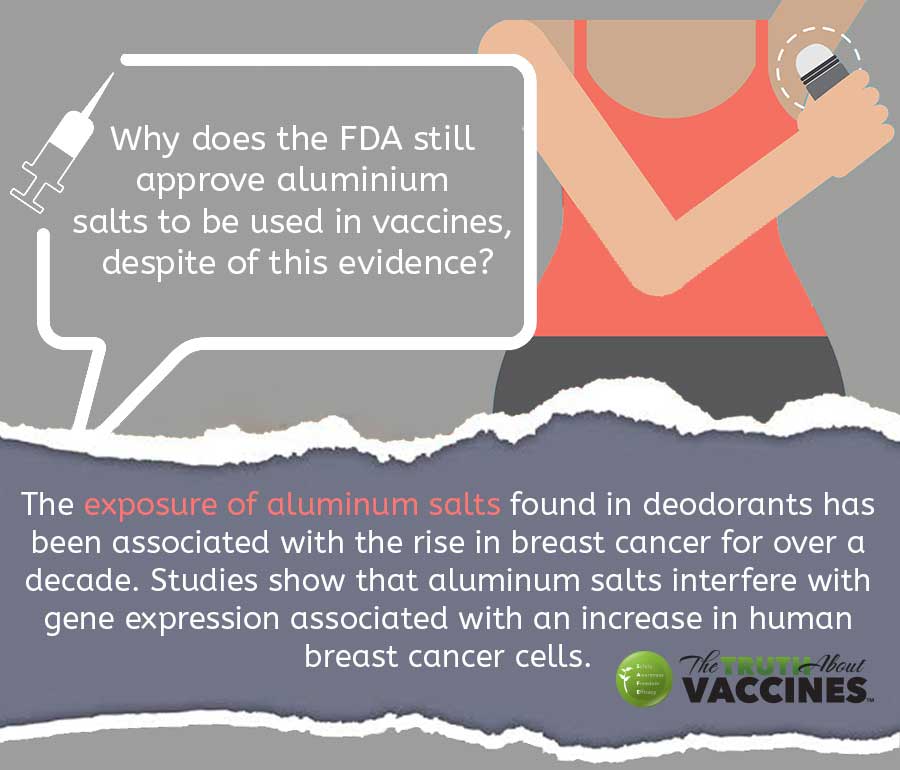 Ty and Charlene have been on this mission together to reach as many people around the world with the truth that saves lives as they can, and
they need your help!
As you know, they are being censored with many other truth tellers.Please support their mission by
sharing this article
! Next, you can support them by going to
www.thetruthaboutcancer.com
and
signing up
for their FREE Newsletter!Also,
join Ty & Charlene
on Alt Social Media platforms where the TRUTH is allowed and join the discussion there!
Follow, Subscribe, & SHARE: