TTAV is experiencing heavy censorship on many social media channels since we've been targeted by the mainstream media sellouts, social media bullies, and political turncoats.  Be sure to get the TRUTH by subscribing to our email list.  It's free.

Violent protests erupted in China on Friday after nearly 150 children received expired polio vaccines. Parents say that this is just one example of a rampant vaccine scandal revolving around the Chinese pharmaceutical industry. Officials say that they are launching an investigation and that this latest incident shows "negligence and supervision failure" on behalf of local officials. Reuters reports that 17 officials have been disciplined so far.
This is just the latest event in which defective or expired Chinese vaccines have been administered to children as young as 3 months old, who have suffered injuries including fever, vomiting, severe skin rashes, and even death. Due to poor safety testing, officials say they cannot determine if the vaccines are responsible for these reactions.
China's Vaccine Scandal
Much of the scandal has centered around Changsheng Bio-tech, one of the major vaccine manufacturers in China. The company was fined after watchdogs discovered Changsheng had produced 252,600 DPT (diphtheria, tetanus, and pertussis) vaccines that did not meet potency standards.
According to a 2018 report by CNBC, Chinese regulators found that the pharmaceutical company had "arbitrarily made up and changed manufacturing and inspection records" regarding the vaccine, which was administered to hundreds of thousands of young children. They also fabricated inspection reports for over 100,000 rabies vaccines.
They were forced to pay over $1 billion in penalties and their manufacturing license was revoked.
The New York Times reported that Wuhan Institute of Biological Products, a state-run pharmaceutical manufacturer, is said to have produced over 400,000 vaccines that did not meet standards. Wuhan was required to pay a fine.
The protests on Friday were not the first public demonstration against vaccine manufacturers and public health officials. The DPT scandal led to protests in Beijing last July. And while protests and public demonstrations have become common in America, they are an unusual sight in China, where the ruling Communist Party of China (CPC) actively censors media coverage and social media regarding vaccine safety and other state issues.
During Friday's protest, one woman was told by local police not to accept interview requests, "especially by the foreign media," according to the Times. Meanwhile, few arrests have been made.
After paying small fines, many of the companies responsible for faulty vaccines continue to operate normally. There is also concern that government officials are involved in the vaccine scandal, and that their failure to accurately monitor and label the vaccines have been due to influence from manufacturers.
Many parents say that their children have suffered similar side effects (fever, rashes, and vomiting)to children who received the expired vaccines and believe that faulty vaccines have been administered for over a decade. The state-run system for providing vaccine information has not provided information to parents who are concerned that their children may have received dangerous or ineffective vaccines.
A History of Deceit
The issue of deceitful corporations and corrupt government officials is extensive, and the vaccine scandal is not an anomaly. In 2008, over 300,000 children got sick and 6 died after drinking milk powder contaminated with melamine, a toxic chemical. A year earlier, it had been discovered that China was exporting several contaminated products. Fish, toothpaste, and toys were found to contain illegal drugs, cough syrup, and lead paint, respectively.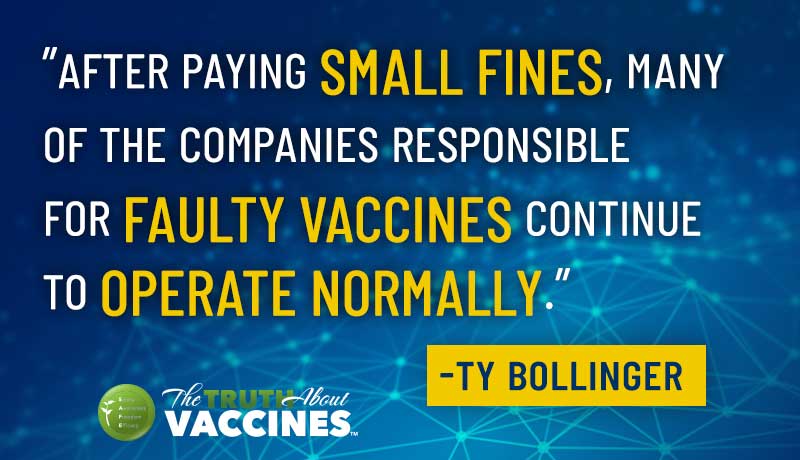 Greed is not an exclusively American evil. Corporations all over the world will put cash before consumers whenever they can. Safety officials and politicians are easily influenced by lobbyists and special interest groups. Public policy is not dictated by the will of the people, but by the companies who shell out the most money.
It is extremely important that we take a careful look at everything that we put in and on our bodies. If you don't know what's in your food, medicine, cosmetics, or cleaning supplies, it becomes impossible to make an informed decision for you and your family. We need to hold corporations and government officials accountable. What's happening to China's food and drug industries could very well happen here – it may be already.

Ty and Charlene have been on this mission together to reach as many people around the world with the truth that saves lives as they can, and
they need your help!
As you know, they are being censored with many other truth tellers.Please support their mission by
sharing this article
! Next, you can support them by going to
www.thetruthaboutcancer.com
and
signing up
for their FREE Newsletter!Also,
join Ty & Charlene
on Alt Social Media platforms where the TRUTH is allowed and join the discussion there!
Follow, Subscribe, & SHARE: