TTAV is experiencing heavy censorship on many social media channels since we've been targeted by the mainstream media sellouts, social media bullies, and political turncoats.  Be sure to get the TRUTH by subscribing to our email list.  It's free.

On January 10th, renowned cancer scientist Martin Gore died unexpectedly. Gore, 67, suffered total organ failure shortly following a routine inoculation for yellow fever. A professor of cancer medicine at the Institute of Cancer Research and a consultant at the Royal Marsden National Health Service foundation trust, Gore was awarded The Royal Marsden's Lifetime Achievement Award in 2015.
And although the yellow fever vaccine has been considered one of the safest, the increasing evidence of its lethality in recent years has called that claim into question.
What is Yellow Fever?
Yellow fever is a serious, life-threatening disease with high mortality rates. Spread by mosquitoes, the yellow fever virus can cause fever, chills, nausea, headaches, muscle pain, and severe damage to the liver and kidneys. Liver failure can lead to jaundice, which causes the skin and eyes to turn yellow, hence the virus' name. Found primarily in tropical regions like South America and Africa, the disease is fatal in about 5% of cases. In patients who experience jaundice, the death rate increases to as much as 50%.
Yellow fever kills 1,000 times more people than ebola.
Is the Yellow Fever Vaccine Safe?
The yellow fever vaccine has been around since the 1920s, though today's strain was discovered in 1937 by a scientist working at the Rockefeller Foundation. For decades, the vaccine has been labeled as safe and administered to anyone living in areas where they may be exposed, as well as to anyone traveling to subtropic destinations. Two of the leading manufacturers of the vaccine are the Wuhan Institute (involved in the Chinese vaccine scandal) and Sanofi Pasteur (co-creator of the new 6-in-1 combo vaccine Vaxelis).
In April last year, just a few months before Professor Gore's untimely death, the World Health Organization (WHO) announced that nearly 1 billion Africans would receive the vaccine by 2026, thanks to efforts by UNICEF and Sanofi. It is already part of the infant immunization program in 35 countries with a high risk for yellow fever.
And while yellow fever is a terrible and deadly disease, the vaccine may also put patients at great risk.
Martin Gore is not the first to die after receiving the vaccine. In fact, several people have died as a result of receiving this vaccine over the past few years. Vaccine manufacturers warn that those over 60 or with existing immunodeficiency are at higher risk for adverse effects. A report in the Journal of Travel Medicine found that between 2007 and 2013, there were just under four cases of serious adverse effects from the vaccine per 100,000 doses. This increased to 6.5 per 100,000 for those aged between 60 and 69, and 10.3 per 100,000 for those aged 70 and above.
But the truth is even more alarming.
Man-Made Yellow Fever?
The vaccine can sometimes result in viscerotropic disease, which is an artificial form of yellow fever induced by the vaccine strain of the disease. According to the CDC, this man-made virus can lead to multiple organ dysfunction syndrome or multi-organ failure and death in at least 60% of cases. They acknowledge that the disease can only come from the vaccine, saying,
Yellow fever vaccine-associated viscerotropic disease (YEL-AVD) is a rare and serious adverse event associated with administration of the yellow fever vaccine."
Symptoms of YEL-AVD include headache, nausea and vomiting, jaundice, and death. And it isn't just older folks or those with immune problems who are at risk. One study in 2011 found that young women may be more susceptible to viscerotropic disease. According to the study:
A review of published and other data suggested a higher than expected number of deaths from yellow fever vaccine–associated viscerotropic disease among women 19–34 years of age without known immunodeficiency."
And because vaccine safety research is so hard to find, many cases of illness or death after receiving the vaccine are not found to be caused by the vaccine. If there isn't enough research to show causation, the manufacturers are off the hook. And because the majority of these vaccines are administered in poverty-stricken, undeveloped countries, it's likely that a large portion of adverse events go completely unreported.
But that isn't always the case.
The Case of Malcolm Brabant
Malcolm Brabant is a veteran BBC foreign correspondent, PBS NewsHour special correspondent, and winner of the prestigious Peabody Award for his reporting on the European migration crisis. In 2011, he received a routine vaccination for yellow fever. Within hours, he began to experience severe fever, aches, and delusions. He spent the next 15 months in and out of psychiatric hospitals in two countries. With no history of mental illness, Brabant believed he was the messiah, then the devil, and even heard voices urging him to kill. The suffering of Malcolm and his family was substantial during this time.
Now fully recovered, he has full belief that he lost his sanity because of the vaccine – manufactured by pharma giant Sanofi Pasteur. He and his wife filmed much of the ordeal and released it as a documentary titled "Malcolm is a Little Unwell".
Psychiatrist Diana Kristensen, who worked on Brabant's case, believes he is now healthy because his symptoms resulted from an external cause, not a dormant issue. She believes the vaccine caused his psychosis, and that there was no underlying condition. Dr. Heidi Larson, of the London School of Tropical Medicine, leads a worldwide campaign to boost public confidence in vaccines. When asked about Sanofi's response to Brabant's claims, she described them as "inadequate."
Sanofi Pasteur has denied any link between the yellow fever vaccine and Mr. Brabant's hallucinations and psychosis. Brabant's wife, who suffered through the entire ordeal with her husband says:
If you buy a bad burger all hell breaks loose, [but] you have a vaccination that fries your brain and… nothing."
Martin Gore is simply another casualty in the battle for transparency and accountability from the pharmaceutical industry. There's no doubt that the yellow fever vaccine has saved lives, but at what cost? Both Brabant and Gore, like millions before them, received the vaccine believing that it was totally safe and that the worst side effect would be a mild fever.
Instead, the vaccine ruined or ended their lives.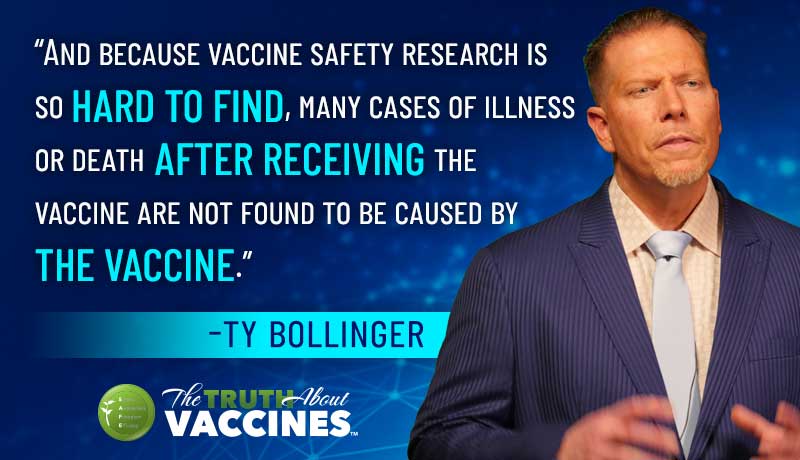 These are respected, noteworthy men. An award-winning journalist and a decorated cancer researcher were not immune to the dangers of vaccines. How much more vulnerable are everyday people like you and me? What about severely impoverished communities in Africa and South America?
According to The Times, "His death highlights the increased risks associated with the vaccine for the growing number of older travelers visiting exotic destinations," and while the increased risk for older recipients is well-documented, the risks for all of us are greater than they appear.
Still, massive companies like Sanofi Pasteur have no interest in or intention of conducting more thorough research, or in attempting to find a safer way to protect people from yellow fever.
Why?
Because there's not enough profit.
Because the majority of these vaccinations go to underprivileged nations who can't afford to pay inflated prices.
Because we have been quiet and complacent, taking whatever pills, shots, or other drugs the doctor prescribes without question.
We deserve better than companies like Sanofi. Our children deserve better.
In his documentary, when asked why he wanted to make a film about his experience, Brabant said:
There is another important point here that we're trying to achieve which is all about justice, fairness, and corporate responsibility."
We couldn't agree more. Vote for officials who will stand up to big pharma and special interest groups instead of lining their pockets with dirty money. Vote with your dollars by refusing to support companies who don't hold their products to a high enough standard. Stay informed and keep asking questions about your medicine and your food.
The truth is often inconvenient for these mega-corporations, but the light will always outshine the darkness. Keep the conversation going with friends, family, and neighbors. We'll continue to bring you all the latest information that companies like Sanofi Pasteur don't want you to hear.

Ty and Charlene have been on this mission together to reach as many people around the world with the truth that saves lives as they can, and
they need your help!
As you know, they are being censored with many other truth tellers.Please support their mission by
sharing this article
! Next, you can support them by going to
www.thetruthaboutcancer.com
and
signing up
for their FREE Newsletter!Also,
join Ty & Charlene
on Alt Social Media platforms where the TRUTH is allowed and join the discussion there!
Follow, Subscribe, & SHARE: