TTAV is experiencing heavy censorship on many social media channels since we've been targeted by the mainstream media sellouts, social media bullies, and political turncoats.  Be sure to get the TRUTH by subscribing to our email list.  It's free.

Last week, a federal judge determined that The Johns Hopkins University, Rockefeller Foundation, and Bristol-Myers Squibb Co will face a $1 billion lawsuit over their involvement in a government experiment that infected hundreds with syphilis against their will or without their knowledge.
This is a big win for victims and their families, who have been seeking justice since the study first came to light in 2010. Though the Guatemala experiment was funded by the U.S. National Institutes of Health (NIH) and led by a senior surgeon from the United States Public Health Service (both part of the Department of Health and Human Services), no compensation has been offered by the government.
Let me fill you in on the atrocious history that led us here.
The Push for Research
During World War II, the military was losing the equivalent of two divisions a year due to venereal disease – roughly 350,000 soldiers – at a cost of $34 million. This led to a major push for research into ways to treat and prevent sexually transmitted diseases like gonorrhea and syphilis. The recent discovery of penicillin was a major focus of these studies.
In 1943, the U.S. Public Health Service (PHS) conducted studies on inmates at Terre Haute penitentiary in Indiana. Dr. Thomas Parran Jr., the Surgeon General at the time, was a major contributor to the campaign researching effects and treatments of sexually transmitted diseases (STDs).
The study included 241 inmates, who were paid $100 and received a commendation letter submitted to the parole board. These inmates were injected with several strains of gonorrhea and used to study the effects and potential treatments associated with the disease.
It is said to be the first U.S. study to infect human subjects with a dangerous contagion. Among others, Dr. John Charles Cutler helped lead the experiments. The study is now considered a violation of medical and human rights ethics.
Although the subjects consented to the study, they are considered a vulnerable population, and medical professionals should never intentionally infect humans with dangerous and harmful diseases.
Tuskegee Syphilis Experiment
But Terre Haute was not the first study on STDs in human subjects, nor the most severe example of ethical violations. From 1932 to 1978, the PHS conducted a clinical study of 600 impoverished black sharecroppers, nearly two-thirds of whom had contracted syphilis. They were told that they would be receiving free healthcare from the United States government, but none of the subjects were given treatment, even after penicillin had been shown to successfully treat syphilis.
Not only were the men not treated, they were actively prevented from accessing treatment that would have been otherwise available. Several men in the study died, 40 of their wives contracted syphilis, and over a dozen children were born with the congenital disease during the course of the study. Cutler was also involved in the study, though Thomas Parran was the catalyst for its creation.
When PHS employee Peter Buxton initially filed a protest in 1966, the PHS's Division of Venereal Diseases determined that his objections on ethical grounds were unwarranted, since the study was not yet complete. He continued to protest the study to no avail until 1972, when he provided details of the experiment to the Washington Star. The next day, the leaked information was featured on the front page of the New York Times, and the study was terminated later that year.
Bringing the information to the public was the only way for Buxton to affect change.
Following a class-action lawsuit, the U.S. Government awarded $10 million to the participants in a private settlement. The study resulted in well over 100 deaths from syphilis and related complications. It is likely that, had the PHS not withheld treatment, these deaths could have been easily prevented.
The Guatemala Experiment
Fast-forward to 1946, when U.S. researchers began perhaps one of the greatest ethical violations in American history in a study in Guatemala. Funded by a grant from the NIH, the study included 1,308 human subjects and sought to learn more about STD treatment and prevention.
But unlike Terre Haute, where subjects gave informed consent, or Tuskegee, where patients were already infected, the Guatemala experiment deliberately infected thousands of human subjects with syphilis either against their will or without their knowledge.
Led by chief PHS physician John Cutler and funded by the NIH (both of which are departments of HHS), the Guatemala experiment was undoubtedly a U.S. endeavor. And the lack of ethics was not lost on those involved. In fact, Dr. Parran, still Surgeon General at the time, acknowledged that the study could never take place on U.S. soil.
The subjects were among the most vulnerable populations, including prison inmates, orphans, soldiers, prostitutes, and patients at a nearby mental hospital. These subjects included children as young as 10 years old.
The methods used in the study are deplorable, and unfit to print here in detail. Prostitutes were intentionally infected and provided to Guatemalan soldiers. Inmates and mental patients were forcibly infected, with researchers going so far as to put bodily fluids from the infected into the eyes and orifices of other subjects.
To read more about the extent of depravity demonstrated by these medical professionals, click here. Warning: The details of the study contained in this document are graphic.
One psychiatric patient was injected with syphilis by Dr. Cutler and suffered severe side effects until treatment was administered 3 months later. After the treatment, Cutler put bodily fluids from a subject infected with gonorrhea into the patient's eyes and other sensitive areas and injected her with syphilis yet again. The patient, who was subjected to these barbaric experiments against her will, suffered horrific symptoms and died a few days later.
This is just one example of the horrendous atrocities conducted by the research team. And it was all conducted and funded by the U.S. government.
The Shocking Discovery
The study was terminated in 1946. R.C. Arnold, a PHS doctor supervising Cutler's work, is on record as saying:
I am a bit, in fact more than a bit, leery of the experiment with the insane people. They cannot give consent, do not know what is going on, and if some goody organization got wind of the work, they would raise a lot of smoke. I think the soldiers would be best or the prisoners for they can give consent. Maybe I'm too conservative."
Cutler responded: "As you can imagine … we are holding our breaths, and we are explaining to the patients and others concerned with but a few key exceptions, that the treatment is a new one utilizing serum followed by penicillin. This double talk keeps me hopping at time."
There was never any question as to the morality of the Guatemala experiment. Cutler and officials in Washington were fully aware of what they were doing. Although the sadistic experiments were conducted between 1946 and 1948, the public was not aware of these crimes against humanity until 2010.
Medical historian Susan Reverby is a professor at Wellesley College who was conducting research into the Tuskegee study. Her book, "Examining Tuskegee: The Infamous Syphilis Study and Its Legacy," was published in 2009.
During her research, she came across some old documents from Dr. Cutler in a Pennsylvania archive. Expecting to find more information about the Tuskegee study, she was floored to find detailed documentation of the experiments conducted in Guatemala.
The study's findings were never published, so when Reverby shared them with government officials, it was the first time that anyone not directly involved in the experiments was aware that the study had taken place. Then president Barack Obama made a formal apology to Guatemalan President Álvaro Colom and condemned the research as a violation of human rights.
Seeking Justice for Victims
Nevertheless, the victims received no compensation from the U.S. government. After a class-action lawsuit, a judge ruled that the U.S. government was not liable for actions committed abroad. Our own government, through funding, oversight, sanction, and execution, was directly responsible for these atrocities. But when it comes to justice for the victims, that same government says that they are not culpable.
Researchers from Johns Hopkins and the Rockefeller Foundation were involved in both the Guatemalan experiments and the Tuskegee study. Doctors from Johns Hopkins conducted panels to advise the U.S. government on the study. Executives from Bristol Laboratories and the Squibb Institute were also involved, and Bristol supplied penicillin for the study, according to allegations in the lawsuit.
And while the U.S. is not to be held liable for their actions outside the country, Judge Theodore Chuang said that the "need for judicial caution" is "markedly reduced" in suits against the private sector, according to a Reuters report. And while these companies clearly played a role in Guatemala, it is readily apparent that the U.S. government is ultimately responsible, despite the absence of any legal liability.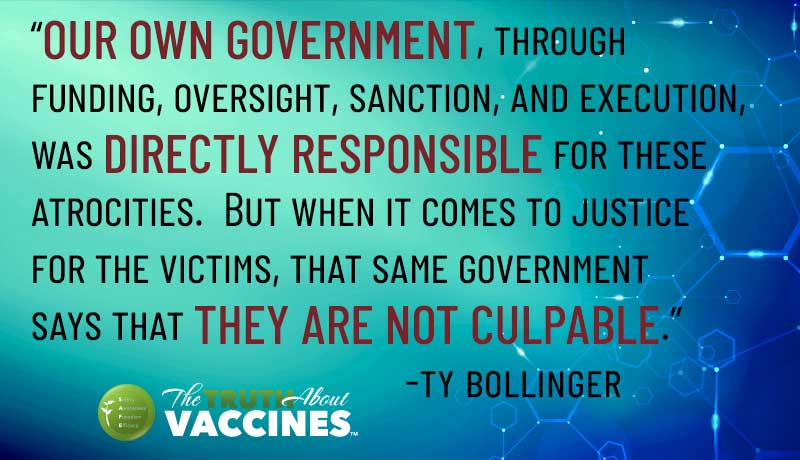 Standards and oversight have greatly improved since these studies took place. Most notably, federally funded research that exposes subjects to an inordinate amount of risk must now be reviewed by an institutional review board, which is mandated to be especially vigilant regarding studies of "vulnerable populations such as children, prisoners, pregnant women, mentally disabled persons, or economically or educationally disadvantaged persons."
And while we hope that atrocities like those committed in Guatemala are never repeated, there is a resounding truth that still holds true today: money drives the medical industry. In the 1940s, the need to reduce military spending resulted in a massive occurrence of unethical studies. Today, lobbyists and special interest groups from the pharmaceutical industry continue to demonstrate substantial influence on regulation and safety protocols related to their products.
At TTAC, our mission is to shine a light on the truth, and to provide information that the medical, pharmaceutical, and other industries have tried to hide. We believe that the choice to vaccinate your children, receive chemotherapy, or pursue any medical intervention is your choice, and yours alone.
We want you to have all the information required to make informed decisions about your health and the health of your family. We live in an age of exceptional medicine, in which common injuries and illnesses that would have been fatal in the past are easily remedied. But there's a lot of money in the medical and pharmaceutical industries, and we need to remain ever vigilant to ensure that corrupt corporations and government officials are held accountable.

Ty and Charlene have been on this mission together to reach as many people around the world with the truth that saves lives as they can, and
they need your help!
As you know, they are being censored with many other truth tellers. Please support their mission by
sharing this article
! Next, you can support them by going to
www.thetruthaboutcancer.com
and
signing up
for their FREE Newsletter! Also,
join Ty & Charlene
on Alt Social Media platforms where the TRUTH is allowed and join the discussion there!
Follow, Subscribe, & SHARE: