TTAV is experiencing heavy censorship on many social media channels since we've been targeted by the mainstream media sellouts, social media bullies, and political turncoats.  Be sure to get the TRUTH by subscribing to our email list.  It's free.

The rights of parents to make choices about their children's health is under attack once again – this time in Massachusetts. The state at the heart of the Revolutionary War, infamous for its defiance of British tyranny, is now proposing legislation that would strip its citizens of the very freedom upon which this nation was founded.
And we need to act NOW.
The Legislation
S.2359 and H.4096 are virtually identical versions of the Community Immunity Act. Its author, state senator Rebecca Rausch, is a former healthcare attorney and health law professor. Ms. Rausch has called the crafting of the bill her "elected duty." According to the freshman state senator, the measures are necessary for "achieving and maintaining localized immunity." Proponents of the bill cite "concerningly high rates" of unimmunized children. We find this odd because Massachusetts already has the highest vaccination rate for the MMR vaccine and is above the national average for many others.
But this is not enough for the aspiring government overlords, who have packed plenty of nefarious clauses into the bill. Let's take a look at what this could mean for the liberated colony.
The bill would standardize the vaccine requirements for every public school, private school, charter school, daycare, camp, college, university, or school activity (even those open to homeschooled children). It would require that all exemption requests be filed and approved through the state's health department, which would have sole authority to approve or deny the exemptions.
The bill would also require parents requesting a religious exemption to sign a document acknowledging that:
The parent or child has a sincere religious belief prohibiting immunizations.
Refusing to immunize the child may result in serious illness or death of the child.
Refusing to immunize the child is against public health policy and may result in serious illness or death of others.
Furthermore, the exemption must be signed and submitted to the child's primary healthcare provider for authentication. The exemptions will only be valid for a year at most, so parents will have to repeat the process for each child every year.
The bill would require that any school or program that did not achieve a high enough vaccination rate to achieve "herd immunity" be designated as an "elevated risk program." These programs would be required to notify all participants and potential participants of the new designation, distribute pro-vaccine literature to all parents, and invite all parents to a presentation by the state about vaccine safety.
The "elevated risk" designation will stay for at least one year and be made available to the public online. The designation would remain until the state determined that the vaccination rates were high enough. The state would also publish immunization data for every school, daycare, and camp each year.
Worst of all, minors would be allowed to give consent to be vaccinated against their parents' wishes as long as a medical professional decides that it's in the child's best interest. The records would be kept hidden from the parents and the doctors would be immune from criminal or civil litigation resulting from the vaccination of a minor.
How might this play out? I'm glad you asked.
Medical Authority Will Be Given to the State
One of the main goals of the legislation is to "standardize" vaccination requirements across the entire state. Parents used to be able to acquire medical exemptions from their primary care doctors, who would simply write a note stating that the child was exempt. Now, the exemptions will be submitted to the state for approval, and only approved if "a generally accepted contraindication is the medical condition justifying the exemption."
This clause is extremely vague and seems to give the state room to approve or deny nearly any exemption it chooses. We've seen already how doctors have been persecuted for granting "too many" medical exemptions. This new bill would leave the decision in the hands of state officials, who've already stated that their goal is to achieve higher vaccination rates.
Religious exemptions will still be awarded (although the Massachusetts Medical Society wants them banned altogether), but parents will be forced to sign a document stating that they are putting their children's lives and the lives of others at risk. Their exemption will be put on file, represented in the published data, and submitted to their doctors (some of whom refuse to see unvaccinated children). Parents will be forced to go through this process every single year for each child.
The Elevated Risk Program
For those who are unaware, "herd immunity" is the idea that if a high enough percentage of a population is vaccinated, the unvaccinated minority will also be protected. This is wrong for many reasons. First, no vaccine is completely effective. Vaccinated children and adults can still develop the diseases against which they've been inoculated.
Second, there is something called "vaccine shedding," where the live-virus vaccine actually causes patients to become contagious. According to data published in the Journal of Clinical Microbiology, 38% of the people who contracted measles during the Disneyland outbreak actually got the disease from the vaccine itself.
Third, the percentages recommended by the CDC for herd immunity are unattainable – even if every single child was vaccinated. That's because children only make up about 24% of the U.S. population. For example, it's recommended that 93-95% of a population be vaccinated for measles to achieve herd immunity.
Rausch says she's trying to protect areas like Pittsfield, MA, where more than 4% of students do not meet the current vaccine requirements. But that means that over 95% of them do. And this is considered a "problem area" by the bill's sponsors! Even if they achieved a 100% vaccination rate, they would need 96% of all adults to comply as well in order to achieve their goal.
But this isn't about eradicating illness; it's about paving the way for national, mandatory vaccinations.
Eliminating Parental Rights
Tucked away deep in Section 5(n) of the proposed bill, there is one little paragraph that could fundamentally strip parents of their rights. The following are lines 115-122 of the bill:
A minor may request and consent to preventive care when, in a provider's best medical judgment, the minor is mature and capable of providing informed consent or if performance of the preventive care would be in the minor's best interest. A provider shall not be subject to regulatory disciplinary action or liable for civil damages or subject to a criminal penalty for a decision under this subsection. All information and records kept in connection with the medical care of a minor who consents to treatment pursuant to this section shall be confidential and shall not be released except upon the written consent of the minor or proper judicial order."
So, a child can give permission to be vaccinated without the parents' knowledge or consent. Parents will not even be able to access the records necessary to find out if their child has been vaccinated, while the bill ensures that no doctor can be held liable in a criminal or civil case for vaccinating a minor without parental consent.
There's a very good reason that we don't allow minors to make major decisions for themselves: they're too vulnerable. Children aren't allowed to enter into contracts, make medical decisions, or be interviewed by the police without a parent or guardian's consent. On the vaccine insert for the MMR vaccine, death is listed among the side effects.
The stakes couldn't be higher, no matter the odds.
Children are taught to trust and respect authority figures. We trust them to obey their teachers, crossing guards, parents… and doctors.
How easy would it be for a doctor to convince a child to be vaccinated?
How traumatic would it be for a child to be told that he or she is the reason that summer camp is now labeled an "elevated risk program"?
How traumatic when the child is shown the exemption form their parents completed, acknowledging that the decision could cause serious illness or death?
This clause is an absolute attempt to undermine the rights of parents to make medical decisions for their children. I have no doubt that this will be abused. That children will be pressured by teachers, doctors, and state propaganda to be vaccinated. And their parents may never even find out.
This section alone warrants that the entire bill be thrown out, and state senator Rausch with it. It's an assault on our freedom and an assault on our rights as parents. And it's a trend that won't stop in New England.
The Massachusetts motto is "Ense petit placidam sub libertate quietem," which is Latin for "By the sword we seek peace, but only under liberty."
The residents of the state were emboldened to stand up in the face of tyranny, even though it would cost thousands of lives. When Paul Revere learned that the British were coming, he rode house by house to warn everyone of the impending danger. The patriots took up arms and thwarted the would-be fascists, creating a new nation.
We would do well to learn from Massachusetts' favorite son. There will be a hearing on December 3rd, 2019 where the Joint Committee on Public Health will hear statements from proponents and opponents of the bill before making a decision on its approval. Already, there have been protestors outside the state house. Their plea is simple: do not give parental authority to the government.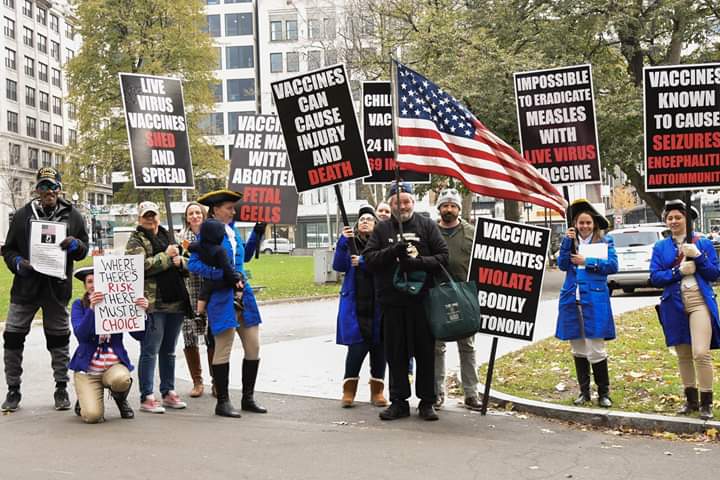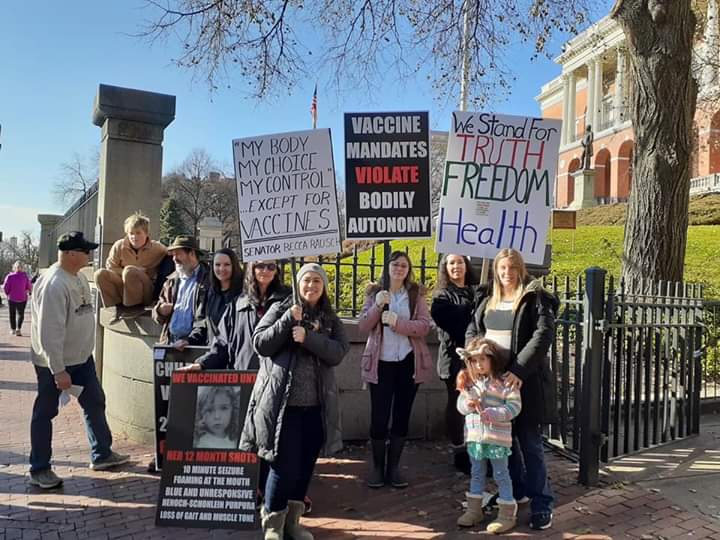 To learn more about this protest, and join the conversation, go here. If you are able, please attend on December 3rd from 9am-5pm at the Gardner Auditorium to give testimony, give support, and pack the state house!
Massachusetts residents may appear to speak before the committee or email their statements in for consideration. But this is bigger than one bill.
This is what we saw in California, when SB277 proved to be only a precursor to SB276, both stripping patients and doctors of their authority and giving sole discretion to the government.
We saw it in New York when a tyrannical mayor tried to force vaccinations on a religious group, threatening to track them down and compel them if they did not comply.
This is just the beginning of something much, much worse. We need to stop it now. And the only way we can is by being LOUD. We need to share information with family and friends. We need to write our representatives and school boards and say, "ENOUGH IS ENOUGH!" We need to stop being afraid to talk about this issue.
There are already so many efforts underway to silence us. Freedom of speech is eroding while Big Tech and the nanny state continue to gather more and more of our personal information. We are at a precipice.
I pray we don't fall in.

Ty and Charlene have been on this mission together to reach as many people around the world with the truth that saves lives as they can, and
they need your help!
As you know, they are being censored with many other truth tellers.Please support their mission by
sharing this article
! Next, you can support them by going to
www.thetruthaboutcancer.com
and
signing up
for their FREE Newsletter!Also,
join Ty & Charlene
on Alt Social Media platforms where the TRUTH is allowed and join the discussion there!
Follow, Subscribe, & SHARE: