TTAV is experiencing heavy censorship on many social media channels since we've been targeted by the mainstream media sellouts, social media bullies, and political turncoats.  Be sure to get the TRUTH by subscribing to our email list.  It's free.

Despite mandating the measles, mumps, and rubella (MMR) vaccine throughout many states, the U.S. is currently facing the largest measles outbreak since the disease was said to have been eliminated in 2000… according to the Centers for Disease Control and Prevention (CDC) and mainstream media.1,2
In fact, upon reading the CDC's data and statistics, their reports have indicated that there have been more cases of measles this year than there were in 2014, when a measles emergency was declared.
However, according to the Oxford dictionary, the definition of the word eliminate is to remove something completely.3 So surely there would be no cases of measles being reported at all – not more cases of measles than ever before.
The truth is, even in the year 2000, cases of measles in the U.S. were still being reported. To cover up this small fact, it appears that the CDC decided to blame the unvaccinated foreigners traveling to the U.S. from abroad for bringing the disease.4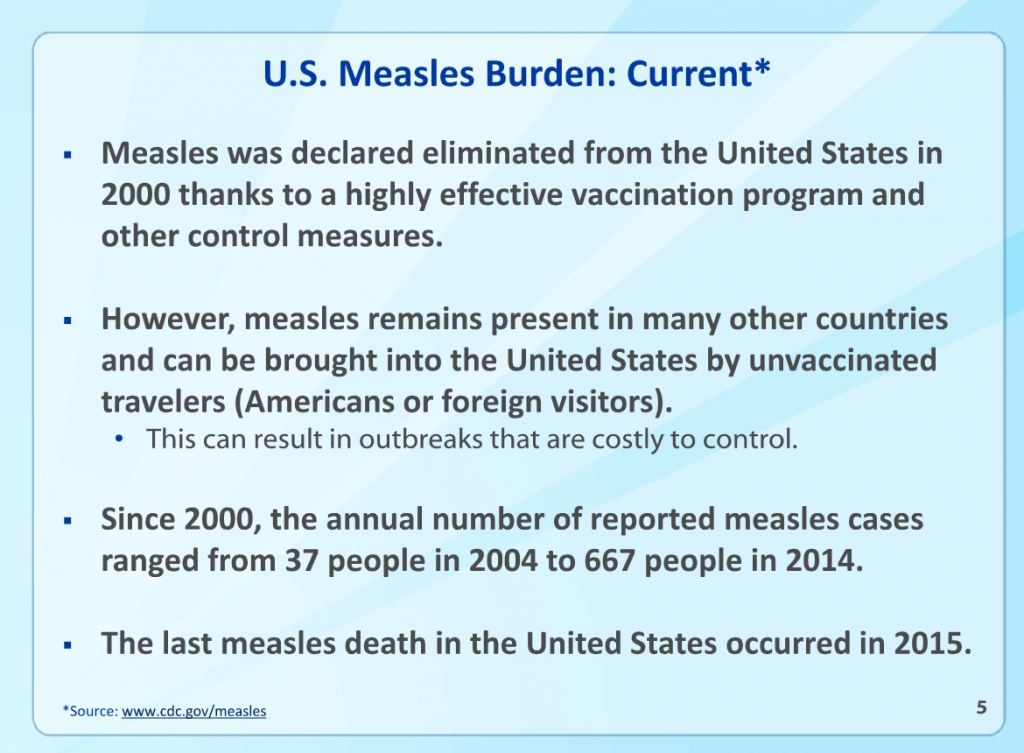 In fact, according to the CDC's own documentation, more cases of measles appear to have been reported since the MMR vaccination was mandated than ever before.1
This fact has left many of us questioning whether or not vaccinations really work and whether, in fact, they are doing more harm than good.
What is Natural Immunity?
Natural immunity is our body's own natural defense mechanism against disease. It is transferred from the mother to the baby and is always available to protect the body. Each and every one of us are born with innate, or natural, immunity against disease. This natural immunity is fairly basic and it is a general protection against most germs.
To explain how our natural immunity can keep us healthy and fight off disease, Interactive Biology published an article titled Natural Immunity of the Body.
They wrote that:
This natural immunity system of our body can be easily compared to an army of a country. Like a country has several defense systems in place e.g.: troops at the borders, troops sent out to war, spies, etc., similarly our body too has multiple layers or barriers of defending itself from possible foreign invasions."6
However, to keep our immune system (or army) fighting against disease efficiently, we need to keep ourselves healthy and, according to general practitioner and homeopath Dr. Jayne Donegan, the best way that we can do this is by having plenty of fresh air and sunshine, drinking pure, quality water, and eating fresh food that is not contaminated with additives and preservatives.
Unlike many doctors who believe that childhood diseases should be avoided at all costs, Dr. Donegan believes that catching a childhood disease is not necessarily something to be feared. In her paper titled Are Childhood Infections a Good Thing?6 she explained that:
We see all too commonly now the effect of denying children natural exposure to these diseases in the rise in the incidence of asthma, eczema, and autoimmune diseases such as diabetes."
She stated that:
We cannot escape these illnesses. They have been with us too long. They are part of why we are who we are. We can run but we can't hide. The more we try to fight them with vaccines and antibiotics instead of living with them and strengthening ourselves the more we weaken our immune system and become susceptible to a whole host of pathogens …"
Surely, the reason that we are born with a natural immune system is to help us to fight disease naturally… right?
How to Fight Disease Naturally
A growing number of parents believe that fighting disease naturally is preferable to having their child vaccinated or giving them antibiotics. Like Dr. Donegan, they believe that catching a fever is a good thing and not something to be feared or suppressed.
Many take their advice not from the medical profession but from websites such as the Organic Spoon.7
They say that far from doing nothing and allowing children to suffer, those following a 'natural immunity' lifestyle need to take steps to build their child's natural immunity against disease, 365 days of the year.
Author Lauren Vaknine explained that by suppressing a fever with drugs such as paracetamol/TylenolⓇ, parents are essentially preventing the immune system from allowing the fever to get high enough to be able to burn off the infection. Vaknine explained that by doing this, parents are forcing the toxins back into the body.
She stated that:
In most cases, we will notice that the child will seem a little better (while the medication suppresses), then go downhill again, with the symptoms persisting, and this can go on for days or even weeks, because the infection is desperately trying to get out of the body and the body knew how to expel it, but with all our modern fear of fevers, we have not allowed it to do what it needed to do."
In saying this, the website does not promote sitting back and allowing any child to be in de-stress. Instead, they promote a series of simple steps that parents can follow to help their child through the fever/illness naturally.

Another website that promotes natural immunity is Arnica. Like Organic Spoon, they also believe in treating a fever naturally. And that bringing a fever down too quickly can be detrimental to a child's health.
Their website is packed full of information on how to treat illness naturally and is largely written by a wide range of medical professionals.8
What is Herd Immunity?
Many parents do not understand the concept of herd immunity. Unlike natural immunity, herd immunity is not in any way natural.
Herd immunity can only occur when a high percentage of the population is protected against a virus or bacteria through vaccination. By protecting the majority of the population through vaccination, herd immunity is believed to be able to protect those children and adults who are unable to be vaccinated against the disease.9
For herd immunity to work efficiently, the majority of the population needs to be vaccinated. However, when vaccination rates fall, herd immunity can begin to break down, which, according to many avid vaccination supporters, can lead to an increase in the number of new cases of "vaccine-preventable diseases."
The downside to herd immunity is that no vaccination is 100% safe and effective, which means that not only can you suffer an adverse reaction from the vaccination itself, but you can also develop the disease that you have been vaccinated against.
Many of the websites that parents are advised to read when researching vaccinations do not mention these important facts. Instead, they promote vaccines and give the impression that vaccinations are 100% safe and carry no risk of illness whatsoever.
For example, vaccines.gov stated on their website that:
Vaccines help your immune system fight infections faster and more effectively. When you get a vaccine, it sparks your immune response, helping your body fight off and remember the germ so it can attack it if the germ ever invades again. And since vaccines are made of very small amounts of weak or dead germs, they won't make you sick." (own emphasis)10
They continued that:
Vaccines often provide long-lasting immunity to serious diseases without the risk of serious illness." (own emphasis)
However, I found their conclusion particularly worrying, as they stated that "vaccines are much safer than natural immunity." This statement is the complete opposite information to what I have uncovered during my research.
Studies Prove Vaccinated Children Are at Greater Risk of Serious Illness and Neurological Disorders
My research has indicated that four separate studies spanning 25 years have proven that fully vaccinated children are at greater risk of serious illness and neurological disorders than their non-vaccinated peers.
Study #1
In 1992, the Immunization Awareness Society (IAS), which is now known as wavesnz.org.nz, conducted a survey to examine the vaccination status and health of New Zealand's children. The results of this survey indicated that unvaccinated children were far healthier than vaccinated children.11
Researchers discovered that there was a significant difference in the incidence of asthma, eczema, and ear infections between the vaccinated and unvaccinated children.
What I found interesting was the fact that, according to their study, researchers discovered that there was a ten-fold increase in cases of tonsillitis in the vaccinated children and a complete lack of tonsillectomies in unvaccinated children.
Study #2
In September 2011, German researchers carried out a longitudinal study, surveying a total of 8000 unvaccinated children from the ages of 0 –19. Like the New Zealand study, researchers collected their data by conducting a survey using questionnaires.
Their results indicated that vaccinated children were up to five times more likely to suffer from a variety of diseases and chronic health problems than unvaccinated children.12
Interestingly, their study found a very low prevalence of the following disorders in unvaccinated children.
dyslexia
speech delay/articulation problems
sensory Processing disorders
anxiety
depression
bedwetting
celiac disease
gluten sensitivity
GERD (gastroesophageal reflux disease)
Researchers concluded their paper with a number of statements from parents, which I believe really added weight to their overall findings.
Studies #3 and #4
Studies 3 and 4 were both conducted in 2017 by Anthony R. Mawson and his team, who once again conducted surveys using questionnaires.
In their first study, titled Pilot comparative study on the health of vaccinated and unvaccinated 6- to 12-year-old U.S. children, the team reported that their results showed that vaccinated children were significantly more likely than the unvaccinated children to have been diagnosed with allergic rhinitis and other allergies, eczema/atopic dermatitis, a learning disability, ADHD (attention deficit and hyperactivity disorder), neurodevelopmental disorders (i.e., learning disability, ADHD or ASD) and any chronic illness. (For exact figures, please read the full study).13
In their second study, titled Preterm birth, vaccination and neurodevelopmental disorders: a cross-sectional study of 6- to 12-year-old vaccinated and unvaccinated children?, the team studied a sample of vaccinated and unvaccinated children who had been born prematurely. They were interested to discover whether or not vaccinating a premature infant with the same doses of the recommended vaccines, on the same schedule as full-term infants, could in fact be detrimental to their health.
The team began their study by providing evidence to show that they fully understood the complexities of preterm birth.14
After analyzing their results, the team concluded that:
Vaccination (i.e., receipt of one of more of the recommended vaccines) was significantly associated with neurodevelopmental disorders (NDD), while preterm birth without vaccination was not. Preterm birth coupled with vaccination, however, was associated with a synergistic increase in the odds of NDD, suggesting the possibility that vaccination could precipitate adverse neurodevelopmental outcomes in preterm infants. These results provide clues to the epidemiology and causation of NDD but question the safety of current vaccination programs for preterm infants …"
These four studies alone indicate that vaccinations can and do cause health problems in children. Therefore, are parents right to question the use of multiple vaccinations and look to alternative measures to protect their child?
Experts Recommend High Doses of Vitamin C to Boost a Child's Immune System
Many medical professionals have been recommending high doses of vitamin C to boost the immune system for many years.
In fact, the late Archie Kalokerinos, MD, one of the earliest professionals to promote the use of vitamin C over the use of vaccinations, discovered that giving infants doses of vitamin C before they received a vaccination prevented them dying from vaccine injuries.
In his autobiography, Medical Pioneer of the 20th Century, he wrote:
… If the Vitamin C status of an infant is borderline, the administration of a vaccine, particularly (but not only) pertussis vaccine, can result in endotoxaemia. This results in a severe reaction to the vaccine, a tremendous increase in the need for Vitamin C, and the precipitation of some of the signs and/or symptoms of acute scurvy. The onset of this may be so rapid that the classical signs of scurvy may be absent. Sudden death, sudden unconsciousness, sudden shock or sudden spontaneous bruising and haemorrhage (including brain and retinal haemorrhages) may occur. Haemorrhage and bruising in such cases can be wrongly attributed to the 'battered baby syndrome'."15
He could have been correct, because, according to the Academy of Nutrition and Dietetics, research has shown that vitamin C is essential to growth and repair of tissue all over the body. They believe that as an antioxidant, vitamin C fights free radicals in the body which may help to prevent or delay the onset of certain cancers and heart disease, and may even be able to promote healthy aging.16
If this information is true, then surely it makes sense that high doses of vitamin C could prevent a child from developing vaccine injuries, while supporting a healthy immune system.
I will leave you with a quote from retired principal research scientist, Dr. Viera Scheibner, PhD.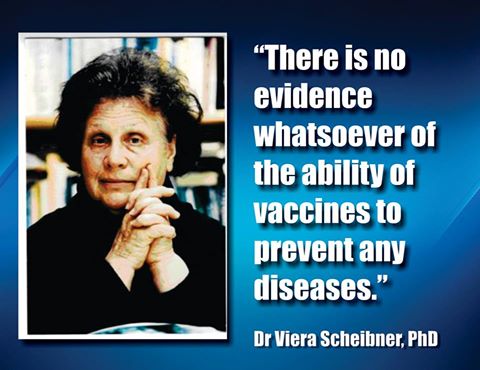 ---
The system is broken. Our healthcare systems, the pharmaceutical industry, our government and its regulatory bodies, our media, and even the technology sector have all been corrupted. We are in the middle of an information war, with coverups and censorship at an all-time high.
To discover why, be sure watch 
PROPAGANDA EXPOSED

, the 8-part docuseries that exposes the truth about our modern medical system and the evil practices that have defined it. Join the

TRUTH ARMY

and help expose the lies and end the tyranny!