According to Winston S. Churchill,
The truth is incontrovertible. Malice may attack it, ignorance may deride it, but in the end, there it is."
On Tuesday July 2nd, the Wall Street Journal published an article entitled "Facebook, YouTube Overrun With Bogus Cancer-Treatment Claims" by Daniela Hernandez and Robert McMillan.
Rewind to Monday, July 1st…
Charlene and I were scheduled to have a call with Daniela Hernandez, but when she called us, Charlene requested that we all hop on the conference call line so we could record the call. After an awkward silence from Daniela, she agreed to call us right back on our conference line where we would record the conversation and share that recording with her. We called into the conference line and waited for about 10 minutes for Daniela to join us. She never did, so we hung up and emailed her requesting another opportunity to talk. She emailed back in a few hours apologizing and asking to talk at another time for a future article and also said she would prefer not to be recorded. We responded with, "Yes!" but have not heard back from her yet…
So, since we weren't able to be interviewed for the article, apparently due to our request to record the conversation, this is our rebuttal to the nauseatingly biased article.
Here are a few snippets from the article:
The article states:
Facebook Inc. and YouTube are being flooded with scientifically dubious and potentially harmful information about alternative cancer treatments … Earlier this year, Facebook said it would crack down on false criticism of vaccines … Pinterest has stopped surfacing vaccination-related search results because most cautioned against vaccines."
First of All, What the Heck is "False Criticism" of Vaccines?
Should honest parents not be able to discuss the fact that the CDC's excipient summary shows that many vaccines contain mercury, formaldehyde, aluminum, polysorbate 80, cell lines from aborted fetuses, tissue from hamsters, dog kidneys, monkeys, peanut oil adjuvants, and much more?
Should we not talk about the fact that over the past three decades (via the National Vaccine Injury Compensation Program), in excess of $4 billion has been awarded by the "vaccine court" to families of people (mostly children) that were harmed by a vaccine?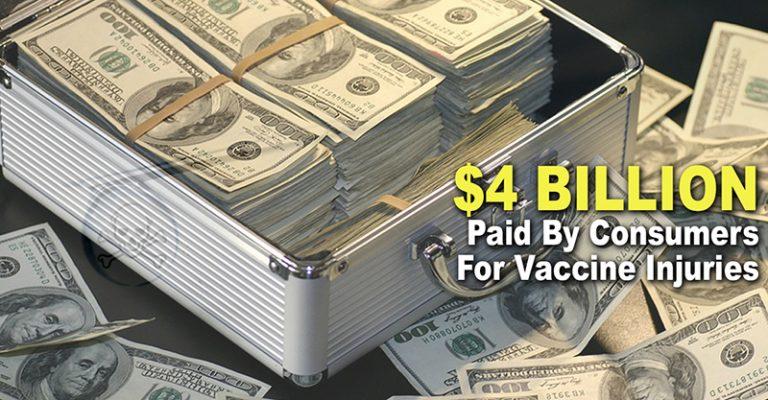 Should we be "hush hush" about the fact that Congress has given vaccine manufacturers immunity and they cannot be sued for vaccine damage?
Should we remain silent about the fact that there are eighteen ICD 10 codes (related to vaccine damage) that doctors use when billing insurance companies?
Should we not discuss the fact that vaccines are not run through the same rigorous trials as drugs? Are we not allowed to state the fact that a "vaccinated vs. unvaccinated" study has never been conducted?
Are you aware of the fact that nobody has ever done a double-blind, placebo-controlled study on multiple-dose vaccines given multiple times?
It's also a fact that almost every "anti-vaxxer" used to be "pro-vaxx" until someone they loved, likely a child, was damaged or killed by a vaccine.
Had our interview with Ms. Hernandez actually occurred, we would have shared all these facts with her. We also would have shared with her that the TTAC Pinterest account was actually taken down because we are vocal about the fact that vaccines are currently not adequately tested and have not been proven to be safe or effective. Quite the contrary. In 2011, the Supreme Court ruled that vaccines are "unavoidably unsafe." (Bruesewitz v. Wyeth).
Is This "False Criticism" of Vaccines? We Think Not…
The article continued:
A Journal investigation found misinformation about cancer treatment widely available on social-media sites. The Journal spoke to dozens of oncologists, patients, lawyers, privacy experts and company representatives, and quantified the reach of several social-media accounts that promoted scientifically unvalidated cancer therapies … According to Dr. Gorski, misinformation about cancer on the internet is as much of a public-health issue as antivaccine misinformation.

It's hard to argue which one is the worst," he said.
The article went on to attack our friend, Chris Wark, and also attacked Dr. Robert Young. We know both of these men, and both of them have been on the forefront of the effort to educate and assist cancer patients with "non-conventional" options for cancer treatment. And both of these men have been instrumental in helping hundreds, if not thousands, of cancer patients live longer and healthier lives… without the side effects of chemotherapy and radiation.
It's interesting that the authors quote Dr. David Gorski, who has become the "online spokesperson" for the vaccine industry and the most visible member of the drug-industry-sponsored "science" blogs. Posting under the pen name "ORAC," Gorski writes in a spiteful, hate-spewing style, attacking those with whom he disagrees, showing no compassion for parents of vaccine damaged children. Gorski's motto is "a statement of fact cannot be insolent," yet the title of his blog reads "Respectful Insolence." In other words, even he admits there are no facts on his blog.
Gorski has ties to the Karmanos Cancer Institute, infamous for experimental cancer treatments and drugs that have been fast-tracked by the FDA. If that name sounds familiar, here's why: Karmanos is also where Dr. Farid Fata had his clinic where he over-administered chemotherapy on terminal cancer patients, used aggressive chemotherapy treatments on many cancer-free individuals, over-billed insurance, and defrauded the government out of tens of millions of dollars. He is now serving 45 years in prison.
I could go on and on about Gorski, but I think you get the picture.
Are Mainstream Media & Big Pharma Behind the War on Truth?
The truth of the matter is that "Big Pharma" is behind the push to scrub the internet of all content that threatens their huge profits or reveals the very real risks of using their vaccines, drugs, and chemotherapy agents. And now, we have Facebook, Pinterest, Google, YouTube, and Twitter going "all-in" with the pharmaceutical giants and agreeing to become the "gatekeepers" and engage in coordinated censorship of natural health information.
And recently, Mailchimp, one of the world's most widely used email marketing services, and CDC Foundation partner, shut down the GreenMedInfo.com account (owned by our friend and colleague, Sayer Ji), for "anti-vaccine content," thus establishing itself as an information censor, and not a neutral service provider.
And now, this WSJ article paints the current climate of censorship as a good and noble thing!
I'm sorry, did we stumble into Communist China? Did we "time travel" into the Soviet Union during the 1940s? Is this Nazi Germany? Are they going to come for those of us who "dissent" and throw us into the gulag?
"Oh, I'm not worried about this issue…it really doesn't affect me…"
If you aren't concerned about these incremental increases in censorship because you are "pro-vaccine" or you don't care about freedom of choice in cancer treatments because you don't have cancer, please read this poem by German pastor Martin Niemöller.
This was written following the Nazis' rise to power and subsequent incremental purging of their chosen targets, group after group…
First they came for the socialists, and I did not speak out— Because I was not a socialist. Then they came for the trade unionists, and I did not speak out— Because I was not a trade unionist. Then they came for the Jews, and I did not speak out— Because I was not a Jew. Then they came for me—and there was no one left to speak for me.
According to our friend, Mike Adams, the "Health Ranger" –
By late 2020, Google's Chrome browser will automatically block all so-called anti-cancer, "anti-vax" and anti-GMO websites as part of Google's collapse into a Monsanto/Pharma criminal cartel. Users who want to visit websites that expose the scientifically-validated risks and potential harm of vaccines, chemotherapy, glyphosate or GMOs will have to switch to alternative browsers and search engines, since the Google.com search engine is already in the process of eliminating all such websites from its search results."
Websites, like TTAC that promote nutrition, advanced medicine for cancer, natural health, herbal medicine, homeopathy, and other healing arts will be categorized by Google as "malicious content" sites, similar to sites that contain hacking scripts or malware. People who are honestly searching for viable options for cancer treatments, other than the "Big 3," will be unable to find anything.
Isn't it ironic that the WSJ article, which praises censorship and is anti-freedom of speech, was published just 2 days before "Independence Day" here in the USA. I wonder what the founding fathers would think about this topic. Actually, I don't wonder at all … I know that they would be appalled.
Over the next several years, unless we stand up to this tyranny and censorship and fight to restore freedom of speech online, the tech "gatekeepers" will annihilate all "anti-establishment" content from the internet in the most immense online "book burning" the world has ever seen!
I leave you with a quote from George Orwell –
In a time of deceit, telling the truth is a revolutionary act."