TTAV is experiencing heavy censorship on many social media channels since we've been targeted by the mainstream media sellouts, social media bullies, and political turncoats.  Be sure to get the TRUTH by subscribing to our email list.  It's free.

Subpoenas and Lawsuits Mount Against Government Officials and Big Tech Companies
Evidence, subpoenas, and lawsuits are stacking up against government officials and tech companies alike as allegations of collusion continue to gain merit. Missouri Attorney General Eric Schmitt announced on Friday that the United States District Court for the Western District of Louisiana granted Missouri and Louisiana's request for depositions from top-ranking officials in the federal government. 
Schmitt and Louisiana Attorney General Jeff Landry have compiled several pieces of evidence that they say shows Dr. Anthony Fauci worked directly with Big Tech companies to steer public discussion about COVID-19 and shut down talk about its origin, work that includes direct conversations with Facebook CEO Mark Zuckerberg. 
The list of granted depositions includes Dr. Anthony Fauci, former White House Press Secretary Jen Psaki, Director of White House Digital Strategy Rob Flaherty, Surgeon General Vivek Murthy, CISA Director Jen Easterly, and FBI Supervisory Special Agent Elvis Chan.
"Defendant Dr. Anthony Fauci, a senior federal government official, coordinating with others, orchestrated a campaign to discredit the lab-leak hypothesis in early 2020," Landry and Schmitt state in their brief. "As director of NIAID, Dr. Fauci had funded risky 'gain-of-function' research at the Wuhan Institute of Virology through intermediaries such as EcoHealth Alliance, headed by Dr. Peter Daszak."
"Thus, if the lab-leak theory were established, Dr. Fauci and Dr. Daszak could be potentially implicated in funding the research on viruses that caused the COVID19 pandemic and killed millions of people worldwide," they said.
U.S. District Judge Terry Doughty went a step further than a previous ruling that forced written testimonies and ordered Fauci and other defendants to testify under oath at depositions. In this latest ruling, Doughty said he agreed with plaintiffs that Fauci's previous "self-serving blanket denials" about his role in censoring views on social media couldn't be taken at face value.
"Plaintiffs argue that even if Dr. Fauci can prove he never communicated with social media platforms about censorship, there are compelling reasons that suggest Dr. Fauci has acted through intermediaries, and acted on behalf of others, in procuring the social-media censorship of credible scientific opinions."
But the Wuhan Lab Leak Theory is not the only major coverup in question. Back in March of 2021, we reported that the Center for Countering Digital Hate (CCDH) had published a "digital hitlist" of the "Top 10 Anti-Vaxxers" which included "The Bollingers" along with 10 others. 
A few weeks later, the CCDH followed up their "Top 10" (or eleven if you can count) list with the results of a survey in which they identify 13 people who – they claim – are responsible for nearly two-thirds of "anti-vaccine content." They named this group "The Disinformation Dozen."
(There were actually 11 people in the CCDH's "Top 10 list and 13 in their "Disinformation Dozen" but the ability of these people to do basic math isn't really the issue at hand here.)
All 13 of those named in the report have publicly expressed concern over both the US government's draconian responses to the COVID-19 crisis and the emergency use authorization of experimental mRNA vaccines now being given to the public without informed consent.
In March, no less than 12 attorneys general called for the removal of these 12 (13) people from Facebook and Twitter. For the most part, these tech companies obeyed. Of the 13 people named in the "Disinformation Dozen" (have we mentioned how bad CCDH is at counting?), only a few still maintain a presence on a major social media platform. The rest have been systematically banned.
This continued despite an August 2021 report issued by Facebook's Vice President of Content Policy Monika Bickert openly questioning the CCDH data. According to Bickert, "People who have advanced this [CCDH] narrative contend that these 12 people are responsible for 73% of online vaccine misinformation on Facebook. There isn't any evidence to support this claim."
Since the initial report was released, thousands of news articles have republished CCDH's accusations and used their document as justification to publicly defame, vilify and deplatform these individuals – including the White House press secretary, the U.S. Surgeon General, the President of the US, and 14 State Attorneys General.
On August 31, 2022, Landry and Schmitt filed a lawsuit alleging that at least 45 federal officials across multiple agencies within the Biden administration colluded with Facebook and Twitter to adjust their algorithms to "censor freedom of speech" on a number of topics, including the COVID-19 pandemic (Google, LinkedIn, and others are implicated in the petition).
The following is an excerpt from that document, which you can read in its entirety here:
"Under the First Amendment, the federal Government should have no role in policing private speech or picking winners and losers in the marketplace of ideas. But that is what federal officials are doing, on a massive scale – a scale whose full scope and impact is yet to be determined.
Secretary Mayorkas of DHS commented that the federal Government's efforts to police private speech on social media are occurring "across the federal enterprise." Doc. 45, ¶ 233. It turns out that this statement is true, on a scale beyond what Plaintiffs could ever have anticipated. 
The limited discovery produced so far provides a tantalizing snapshot into a massive, sprawling federal "Censorship Enterprise," which includes dozens of federal officials across at least eleven federal agencies and components identified so far, who communicate with social-media platforms about misinformation, disinformation, and the suppression of private speech on social media—all with the intent and effect of pressuring social-media platforms to censor and suppress private speech that federal officials disfavor. 
The discovery provided so far demonstrates that this Censorship Enterprise is extremely broad, including officials in the White House, HHS, DHS, CISA, the CDC, NIAID, and the Office of the Surgeon General; and evidently other agencies as well, such as the Census Bureau, the FDA, the FBI, the State Department, the Treasury Department, and the U.S. Election Assistance Commission. And it rises to the highest levels of the U.S. Government, including numerous White House officials."
This is MASSIVE collusion by the government to weaponize the private sector and create a clandestine form of State media that more closely resembles China's GAPP or a certain George Orwell novel that has become increasingly eerie. If the allegations are true, it would mean that government officials – from election commissions and health agencies to intelligence bureaus and even the White House itself – worked in secret with the tech industry to silence and bury opinions and facts that became inconvenient for the official narrative. 
Landry and Schmitt also exposed internal communications between Facebook and the United States Department of Health and Human Services proving that the accounts of the "Disinformation Dozen", were specifically targeted by this so-called "Censorship Enterprise."
You can read those emails in their entirety here, but below is perhaps the most egregious section as it pertains to the work we do at TTAC and TTAV: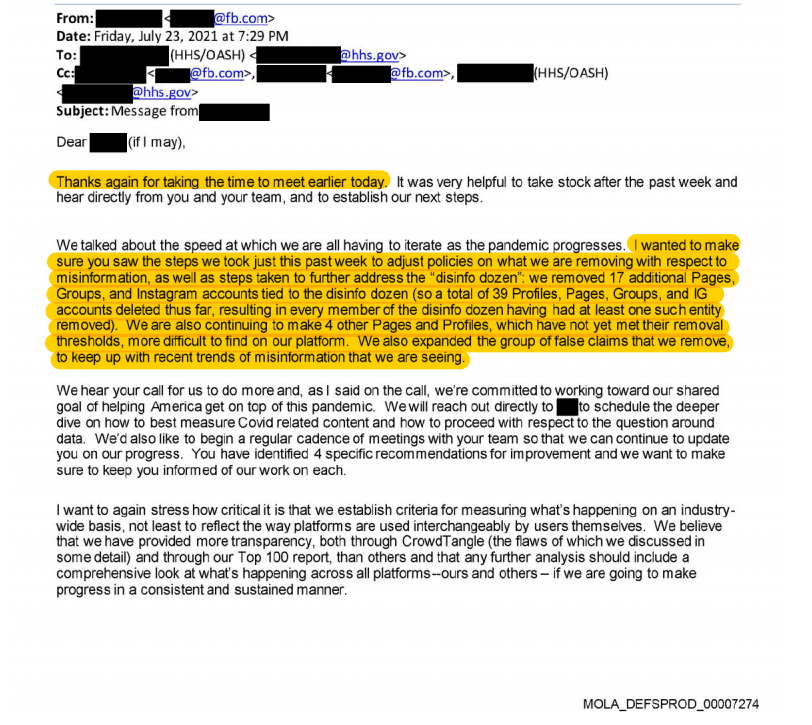 This scandal runs deep, seemingly with actors from virtually every one of our government institutions. But leadership starts at the top (and you know what they say rolls downhill). Responsibility for this egregious attack on one of our most fundamental rights begins with the White House and the office of the President.
But historically, the Biden administration has not been shy about leaning on social media companies to police their content. On July 15, 2021, then-White House press secretary Jen Psaki admitted her colleagues were "flagging problematic posts for Facebook that spread disinformation."
"It's important to take faster action against harmful posts … and Facebook needs to move more quickly to remove harmful violative posts," Psaki added at the time. The following day, Biden accused platforms like Facebook of "killing people" by allowing so-called "misinformation" to propagate unchecked.
The relationship between our government and the tech sector was so cozy that on July 20, 2021, White House COVID-19 Response Team Digital Director Clarke Humphrey received a response from Facebook in seconds when he asked about getting a fake Dr. Anthony Fauci Instagram account taken down.
"Hi there — any way we can get this pulled down?" Humphrey wrote, along with a link to the account. "It is not actually one of ours."
"Yep, on it!" the answer came back.
Another email, from April 2021, shows a scheduled meeting for White House staffers to be "briefed by Twitter on vaccine misinfo." Still another record, from July 28 of that year, shows a Facebook official proposing to a CDC counterpart that "in addition to our weekly meetings, doing a monthly misinfo/debunking meeting, with maybe claim topics communicated a few days prior so that you can bring in the matching experts and chat casually for 30 minutes or so."
"Yes, we would love to do that," the CDC official answered.
This isn't the first time that we've seen cozy backroom relationships or special rules for the rich and powerful. Remember Facebook's XCheck, a quality-control measure for actions taken against high-profile accounts, including celebrities, politicians and journalists?
Today, it shields millions of VIP users from the company's normal enforcement process. Some users are "whitelisted" — rendered immune from enforcement actions (kind of like Big Pharma with vaccines) — while others are allowed to post rule-violating material and outright lies, pending Facebook employee reviews that often never come.
How about when the New York Post published leaked emails from Hunter Biden's laptop? This was crucial information about a former vice president who was up for election to the highest office in the world. And what happened? 
Social media and the government worked together to absolutely silence the story. Facebook and Twitter changed their algorithms to prevent the story from appearing on people's feeds, while the FBI said without any doubt that the leaked emails were "Russian Misinformation" designed to influence the election. 
By now, we know that the laptop – and its contents – are authentic. Information that would likely have changed the course of a presidential election was censored almost as quickly as it had appeared. And most of us were none the wiser. 
Zuckerberg, speaking on the Joe Rogan Experience, said: "The background here is that the FBI came to us – some folks on our team – and was like 'hey, just so you know, you should be on high alert. We thought there was a lot of Russian propaganda in the 2016 election, we have it on notice that basically there's about to be some kind of dump that's similar to that'."
He said the FBI did not warn Facebook about the Biden story in particular – only that Facebook thought it "fit that pattern".
In March of this year, the New York Times and Washington Post both acknowledged that the laptop was real. A September poll found that – 2 years later – 63% of American still believe that this is an important story. 
When the Post first published this story, they saw their Twitter account locked down, rendering the 200-year-old paper (founded by Alexander Hamilton) inert during one of the most important points in our nation's history. 
It was all made possible thanks to this government collusion with the tech industry.
But these brave leaders from Missouri and Louisiana are not going to stand idly by as our democracy and freedoms are eroded beneath our feet. 
"We have already received a number of documents that clearly prove that the federal government has an incestuous relationship with social media companies and clearly coordinate to censor freedom of speech, but we're not done," Schmitt said in a statement last month.
"The Department of Justice is cowering behind executive privilege and has refused to turn over communications between the highest-ranking Biden Administration officials and social media companies. That's why, yesterday, we asked the Court to compel the Department of Justice to produce those records. We're just getting started – stay tuned."
Attorneys General Schmitt and Landry weren't joking. The fact that people like Anthony Fauci, Jen Psaki, Rob Flaherty, Vivek Murthy, Jen Easterly, and FBI Special Agent Elvis Chan is a HUGE WIN in the battle for truth and freedom. 
🚨In May, We filed a landmark lawsuit against top ranking Biden Admin. officials for colluding with social media companies to censor free speech. We have already received documents that show their cozy relationship, and now we're demanding more. 🧵

— Eric Schmitt (@Eric_Schmitt) September 1, 2022
This censorship may well have cost MILLIONS of lives over the past 2 years. Cheap, effective medicines were withheld while dangerous, untested, experimental drugs were bought and paid for using OUR tax dollars. We were told that no one would be forced to receive these "clot shots" only to watch our right to work, shop, travel, or attend school stripped away for the unvaccinated. 
We were told that these shots would prevent the infection and spread or COVID, only to learn that the shots could do neither – nor had the data ever suggested that they could. We knew from the very beginning that this virus had virtually no risk for young children, and then we watched as the shots were approved for 6-month-old infants and then added to the childhood schedule in a surprise vote. 
We watched as trillions of dollars were allocated for "pandemic relief" only to realize too late that the majority of that money ended up in the pockets of the rich. We've suffered through record inflation, a current recession, and a pending depression – all while the production and shipping of goods has struggled to bounce back from our fatally flawed COVID response. 
In the early days of the "pandemic," we watched as Washington officials deftly traded stocks, profiting hundreds of millions of dollars on information that had not yet been released to the public. 
And we watched as all the life-saving work to which we've dedicated our lives became increasingly harder to find and access. In addition to having our social media channels blocked, banned, and deleted, we've also suffered attempted hacking attacks on our sites and even direct censorship inside our audience's personal accounts. 
Just take a look at this error message one of our customers received after they downloaded our latest docu-series: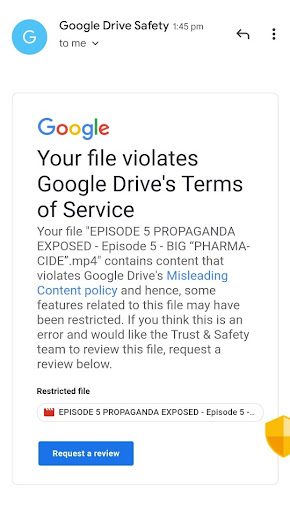 The time is RIGHT NOW to join in this fight. Our government overlords and their lackeys in Big Tech need to be stopped. Many of these officials should be JAILED for their crimes. The American people deserve their lives (and their money) back. For many, it's already too late…

Ty and Charlene have been on this mission together to reach as many people around the world with the truth that saves lives as they can, and
they need your help!
As you know, they are being censored with many other truth tellers.Please support their mission by
sharing this article
! Next, you can support them by going to
www.thetruthaboutcancer.com
and
signing up
for their FREE Newsletter!Also,
join Ty & Charlene
on Alt Social Media platforms where the TRUTH is allowed and join the discussion there!
Follow, Subscribe, & SHARE: