TTAV is experiencing heavy censorship on many social media channels since we've been targeted by the mainstream media sellouts, social media bullies, and political turncoats.  Be sure to get the TRUTH by subscribing to our email list.  It's free.

Over the past few days, stories have been swirling about a unanimous vote by the Advisory Committee on Immunization Practices (ACIP) to add Moderna's COVID shot to the childhood, adolescent, and adult immunization schedules. Here's what we know as of October 22, 2022.
October 19th
Following panel and public comments on the COVID vaccine for children, a vote was held at 3:50PM on whether the shots should be added to the Vaccines for Children (VFC) program. The VFC is a federally funded program that provides vaccines at no cost to children who might not otherwise be vaccinated because of inability to pay. The CDC buys vaccines at a discounted rate for distribution to registered VFC providers. Children who are eligible for VFC vaccines are entitled to receive those vaccines recommended by the ACIP.
The panel voted unanimously to include COVID shots in the VFC program. This was likely a preemptive move. Shots are currently available for free due to an active Public Health Emergency. Once that emergency ends (presumably soon), the cost of shots will be negotiated directly between the manufacturer and the patient. 
One example of a VFC shot is the Dengue Fever vaccine. The U.S. government purchases these shots at a reduced rate and makes them available to children whose families are unable to pay for the jabs. The Dengue Fever shot is NOT on the CDC's recommended Childhood Vaccine Schedule, and applicants must provide lab-confirmed previous dengue infections and live in endemic areas.
The addition of a vaccine to the VFC program does NOT constitute an addition to the CDC Childhood Vaccine Schedule.
October 20th
The addition of the COVID shot to the recommended schedule was NOT on the docket for the meeting. In fact, it is uncommon for vaccines not on the agenda to be added to the list. A misinformed tweet by Dr. Nicole Saphier (a contributor to Fox News) on October 18th falsely claimed that the ACIP was set to vote on adding COVID shots to the recommended schedule. 
This (presumably) led to a segment on Tucker Carlson Tonight making the same claim. That segment was viewed millions of times and resulted in a frenzy of misinformed speculation that the CDC was going to add the COVID jab to the recommended schedule. 
In fact, the only thing on the agenda for the ACIP meeting was whether or not to add the jabs to the VFC program. 
However…
At 1:20PM EST, the panel did vote unanimously (15-0) to add the COVID clot shots to the aforementioned childhood vaccine schedule. They did so, despite the COVID shots causing death, myocarditis, huge increases in cancers, and dozens of other adverse events. They did so, despite the CDC's own data that babies, toddlers, and children are at ZERO risk of dying from COVID.
Here is a screenshot of the 15 members of the CDC's ACIP committee who are so disconnected with reality that it's hard to fathom…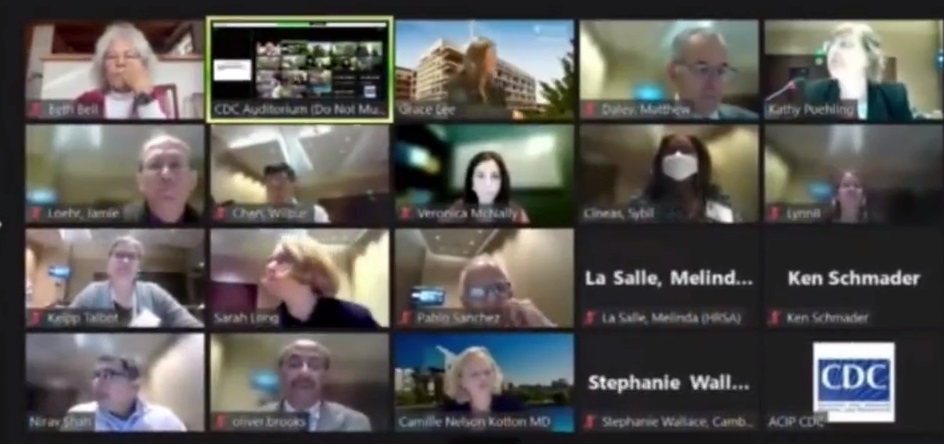 Does This Mean Kids Must Get the Jab to Attend School?
Not necessarily. CDC recommendations are precisely that: recommendations. CDC has no authority or precedent to mandate vaccinations, scholastically or otherwise. However, many states use the CDC's guidelines as a de facto standard for school requirements. This is an important distinction.
Because the COVID shot was (extemporaneously) added to the recommended vaccination schedule, many states, counties, and municipalities are likely to include the jab as a requirement for public school attendance. 
BUT, that power remains at the state and local level. 
This is an important distinction, because it means that your voice is especially important within your local community. The addition of the COVID shots to the CDC immunization is a shocking blow, but it is NOT a death sentence! Your state, county, and school board officials have the ultimate power when it comes to your child's education. 
Which means it's time for action.
How Do I Stop Vax Mandates in My Hometown?
We're glad you asked. Here are some essential steps that you can take RIGHT NOW to make a difference:
1 | Comment in the federal register about your concerns and experiences with the COVID shot. Even stating your opposition is meaningful. (Here's a crash course in public commentary.)
2 | Vote for candidates who will protect health freedom, informed consent, and parental rights. (This is a great resource.)
3 | Support your local campaigns by going to rallies, volunteering for door-to-door canvassing, and donating to organizations that promote your interests. (Here's a great place to start.)
4 | Talk to everyone. The upcoming midterm election is critical for our freedoms and will impact the level to which your vote counts. Midterm elections have historically had very low turnout. Mobilizing like-minded people can have a HUGE effect – especially when it comes to local offices. (Here's a great article written by pro-vax people. While we don't agree with them, the approach they recommend is ideal for reaching across the aisle.)
5 | Join local organizations. Personally, we support Stand for Health Freedom, a nonprofit organization dedicated to protecting informed consent in medical care for individuals and families by helping Americans protect their fundamental rights by engaging in the political process. Find an organization that is aligned with your beliefs. We're all stronger together. 

Ty and Charlene have been on this mission together to reach as many people around the world with the truth that saves lives as they can, and
they need your help!
As you know, they are being censored with many other truth tellers. Please support their mission by
sharing this article
! Next, you can support them by going to
www.thetruthaboutcancer.com
and
signing up
for their FREE Newsletter! Also,
join Ty & Charlene
on Alt Social Media platforms where the TRUTH is allowed and join the discussion there!
Follow, Subscribe, & SHARE: