TTAV is experiencing heavy censorship on many social media channels since we've been targeted by the mainstream media sellouts, social media bullies, and political turncoats.  Be sure to get the TRUTH by subscribing to our email list.  It's free.

Video Transcript – Be Brave! – Is Vaccine Science Really Settled? (Part 1)
So let's start here. Here are the slogans that we always hear. "Vaccines are safe and effective." "Vaccine injury is rare." And my favorite, "the science is settled." The least scientific statement is known to man. Anyone that says this should lose any license that they currently have as far as I'm concerned. So let's deal with that. When I think about the science is settled, I think that they have set the bar so low. You're essentially saying that this science is the most immaculate science on the planet because we're the only ones arrogant enough, we're the only scientific body arrogant enough to even make this claim. No one else in science would ever even dare to say the science is settled and cannot be questioned. So if you've reached this level that you are so perfect, then I should only have to add a little bit of doubt.
If there's even the potential for reasonable doubt, let's look at it like that. Let's look at it like a court case. Can I put reasonable doubt into your mind that maybe this is not true? I have. Let's do it again. Here's how it started last time. Bobby Kennedy was asked to go to the National Institute of Health by Donald Trump to talk to all the luminaries of our immunology and infectious disease departments. We put together this PowerPoint that always starts like this. I was sitting there. Bobby was brilliant. There were about eight of us on our side of the table and 12 of them including Tony Fauci, Head of Infectious Disease, Francis Collins, Head of The National Institute of Health. And this is how we started it.
In 2017, Dr. Peter Aaby who was involved in designing the vaccine programs for the third world decided to do the study we've all been asking for. How about you compare vaccinated children to totally unvaccinated children. Don't keep telling us it makes us healthier, prove it. Prove it. Use the scientific method. Go ahead. We're all open for it. So he did. He looked at a DTP vaccine program that took place 30 years ago in Guinea Africa, and what he recognized was the way we laid out the program, we were so specific about the ages of the children, and the difficulties it was to get to every village that by the end of that year, we had only vaccinated almost exactly half of the children. And the other half we had not. Totally randomized study, perfect. I can compare both groups, and this is what he discovered. DTP was associated with a fivefold higher mortality than being unvaccinated.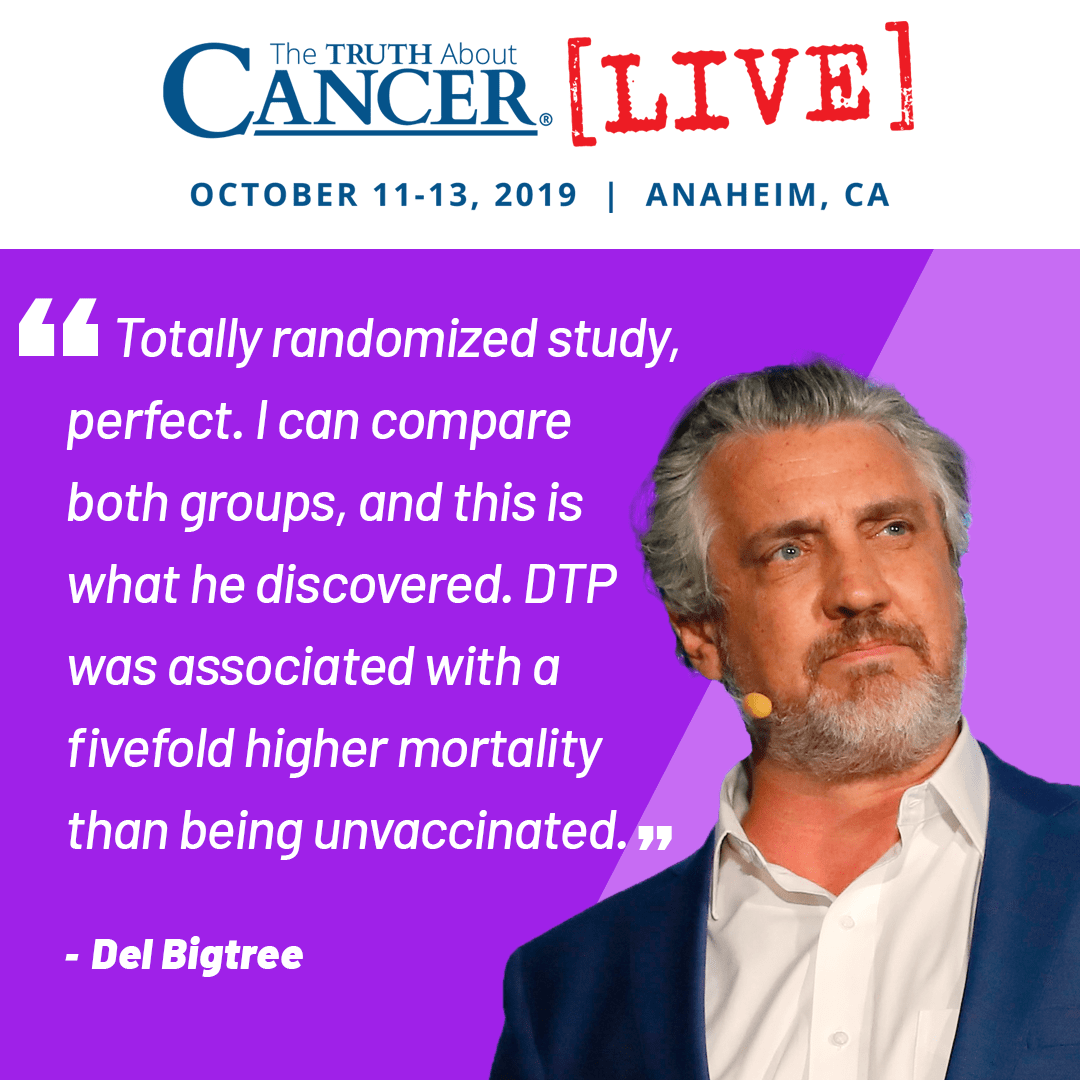 Look what he has to say. All currently available evidence suggests the DTP vaccine may kill more children from other causes than it saves from diphtheria, tetanus, or pertussis. Now let's get this straight, they weren't dying of diphtheria, tetanus, or pertussis. They're dying of dysentery and malaria and all these other illnesses like rotavirus. And what he concluded was it looks like the vaccine, duh, we've— By the way, we've only looked at "does it protect you from the disease?" We never tested it for mortality. So what it looks like is it weakened their immune system so they couldn't protect themselves against anything else.
But as I promise you today, and it gets even worse, it was 10 times the rate of death if you only got the DTP vaccine. If you got oral polio at the same time for some reason, only fivefold higher. But what I was going to say, what I promised you today, is don't take my word for it. The last time I was here, you had to. Except that Peter Aaby continued to do these studies, and more and more scientists are. So let's listen to Peter Aaby. This just came out this year. If he's wrong, why is he talking to the world? If we're not winning, why does he feel so bold? Listen to the truth from the man that designed a vaccine program.
This is about vaccines, and I think it's important to recognize that no routine vaccine was tested for all effect on mortality in randomized trials before being introduced. I guess most of you think that we know what our vaccines are doing. We don't. The program we are talking about at this time, the vaccine program, was introduced sort of in the late '70s after the successful eradication of smallpox, the WSO makes sort of the first immunization program for the low-income countries. What comes out here, you had 2.3 times higher mortality if you were DTP vaccinated. And that is the most commonly used vaccine in the world. And note again that this is clearly worse for girls than for boys. It's not good for boys, but it's— the girls do worse. When you introduce DTP booster, mortality goes up. When we introduce hepatitis B was the source to inactivate vaccine, the same thing happened. So for now, we have shown negative effect for girls for six inactivated vaccinates. DTP1 is 20% higher mortality but then when you come to DTP3, it's 70% higher mortality for the girls, for the boys. The whooping cough vaccine or pertussis vaccine was associated with twofold higher mortality. And please note that the tendency is that this seems to be slightly worse for girls.
You can have a vaccine which is fully protected against a specific disease but associated with higher mortality. How is that possible?
Killing children around the world. In fact, one of the scientists that works with him stood at a TED Talk and said, "We are killing over a million children every year with this vaccine program. If we just got rid of these vaccines, we would save a million lives a year." We actually have letters out to UNICEF, my nonprofit has been notifying every third world nation and consulate in the world to stop this vaccine right away.
But just so you don't think this is happening only in the third world, look what we've discovered since I was last here at The Truth About Cancer. Resurgence of whooping cough may be owed to vaccines inability to prevent infections. Say what? Have you noticed that all the breakouts of whooping cough now are fully vaccinated children is called failure, I guess is the easiest way to put that. It's a complete failure. But why? What they've discovered is the vaccine actually doesn't protect against transmission. It only keeps you from having a cough. It does not stop you from being a carrier of whooping cough. So now think about the commercial where the grandma and grandpa are the big bad wolf if they don't get their vaccine to go visit the brand new baby in the family. We're actually working on a lawsuit to sue for false advertising because that is the opposite of what is actually true. Think about it.
If all this thing does is stop your cough, then it's taking away the only alarm you know that you have whooping cough. That's all it's achieving. Now grandma and grandpa how would've said, "You know what, I'm not going to come and visit baby because we have a cough right now. Something's going around in the house. We're just going to leave you alone." No, instead get this stupid vaccine so now you're going to come over and potentially spread pertussis all over that infant putting them at risk. It's not something you want to do. So now we've turned grandma and grandpa into potentially a silent assassin.
This is what they had to say about it. Remember, the science is settled. Look at how the science works. This is them admitting it. This comes out of Boston University. "The disease is back because we didn't really understand how our immune defenses against whooping cough worked and did not understand how the vaccines needed to work to prevent it," said Christopher J. Gill, Associate Professor of Global Health and Lead Author of the article. "Instead we layered assumptions upon assumptions and now found ourselves in the uncomfortable position of admitting that we have made some crucial errors. This is definitely not where we thought we'd be in 2017." That's a scientist. Does that sound like science? Did you know that the science of vaccines is assumptions upon assumptions that now actually whelp, our dumb luck. Looks like it's not working out.
But it gets worse. This came out this year. Remember, I don't talk about anything I don't find in a published journal. Everything's peer reviewed. How is it they're saying I'm spreading misinformation? Look at this. The 112-Year Odyssey of Pertussis and Pertussis Vaccines-Mistakes Made and Implications for the Future. You can read the whole thing but look at this line I pulled out. "Because of linked-epitope suppression, all children who are primed by DTaP vaccines will be more susceptible to pertussis throughout their lifetimes. And there is no easy way to decrease this increase lifetime susceptibility." We only trained your child's body to observe four of the antigens in pertussis. There's another 100 your body doesn't recognize. Therefore, you are going to always make an error because we taught your body to look at the wrong part of the disease. Unlike the child that actually gets wild pertussis that will go on to have herd immunity, true immunity for decades if not their entire life. But this vaccine achieves none of that. Yet we have this on every one of our schedules. Every one of you kids is getting about five of these by the time they're 18, and they know that we're causing them to have more whooping cough the rest of their lives.

Ty and Charlene have been on this mission together to reach as many people around the world with the truth that saves lives as they can, and
they need your help!
As you know, they are being censored with many other truth tellers.Please support their mission by
sharing this article
! Next, you can support them by going to
www.thetruthaboutcancer.com
and
signing up
for their FREE Newsletter!Also,
join Ty & Charlene
on Alt Social Media platforms where the TRUTH is allowed and join the discussion there!
Follow, Subscribe, & SHARE: