TTAV is experiencing heavy censorship on many social media channels since we've been targeted by the mainstream media sellouts, social media bullies, and political turncoats.  Be sure to get the TRUTH by subscribing to our email list.  It's free.

The human papillomavirus (HPV) vaccine was originally approved by the U.S. Food and Drug Administration (FDA) in 2006, and was introduced to the public as a vaccine that could protect women against the two strains of the HPV virus, HPV 16 and HPV 18, believed to be responsible for 70% of all cases of cervical cancer.1
However, although the HPV vaccine was originally designed to protect women and young girls against the HPV virus, the media and governments from around the world often refer to it as the 'cervical cancer vaccine,' which we believe is incorrect, because, according to our research, there is little evidence to support their claim.2
The World Health Organization Says the HPV Vaccine is Safe, Therefore It Must Be
Not only is the HPV vaccine being incorrectly referred to as the 'cervical cancer vaccine,' it is also being advertised as a safe and effective vaccine by the World Health Organization (WHO), despite growing concern about just how safe and effective the HPV vaccine really is.
According to WHO, the HPV vaccination is extremely safe. Using data provided to them by The Global Advisory Committee on Vaccine Safety (GACVS), they stated that:
Since licensure in 2006, over 270 million doses of HPV vaccines have been distributed. GACVS first reviewed the safety data in 2007, and subsequently in 2008, 2009, 2013, 2014, and 2015. Early on, the Committee was presented signals related to anaphylaxis and syncope. The risk of anaphylaxis has been characterized as approximately 1.7 cases per million doses, and syncope was established as a common anxiety or stress-related reaction to the injection. No other adverse reactions have been identified and GACVS considers HPV vaccines to be extremely safe."3
After discussing several conditions, including Guillain-Barré syndrome (GBS), complex regional pain syndrome (CRPS), postural orthostatic tachycardia syndrome (POTS), premature ovarian insufficiency, primary ovarian failure, and venous thromboembolism, GACVS concluded that the benefits of the HPV vaccine were "already very apparent." They stated that:
Where HPV vaccination programmes have been implemented effectively, the benefits are already very apparent. Several countries that have introduced HPV vaccines to their immunization programme have reported a 50% decrease in the incidence rate of uterine cervix precancerous lesions among younger women. In contrast, the mortality rate from cervical cancer in Japan, where HPV vaccination is not proactively recommended, increased by 3.4% from 1995 to 2005 and is expected to increase by 5.9% from 2005 to 2015. This acceleration in disease burden is particularly evident among women aged 15–44 years. Ten years after introduction, global HPV vaccine uptake remains slow, and the countries that are most at risk for cervical cancer are those least likely to have introduced the vaccine. Since licensure of HPV vaccines, GACVS has found no new adverse events of concern based on many very large, high quality studies. The new data presented at this meeting have strengthened this position."
We found the wording in the above paragraph to be extremely interesting, especially where GACVS stated that
In contrast, the mortality rate from cervical cancer in Japan, where HPV vaccination is not proactively recommended, increased by 3.4% from 1995 to 2005 and is expected to increase by 5.9% from 2005 to 2015."
This is because the HPV vaccination was not approved by the FDA until 2006. Therefore, it appears that, according to GACVS, they were expecting the death rate from cervical cancer to rise significantly in a country where they have admitted that the vaccination has not been proactively recommended… but nevertheless is being used. This significant rise appears AFTER the vaccination was approved for use.
The CDC and FDA Also State That HPV Vaccinations Are Safe
Through our research, we discovered that like WHO, the CDC has also stated on their website that the HPV vaccination is safe and effective.4 The CDC wrote on their website:
HPV Vaccine Safety
The human papillomavirus (HPV) vaccines are safe, effective, and offer long-lasting protection against cancers caused by HPV."
They explained that each of the HPV vaccinations have been through extensive safety testing before they were licensed and stated that:
… As with all approved vaccines, CDC and the FDA closely monitor the safety of HPV vaccines after they are licensed. Any problems detected with these vaccines will be reported to health officials, health care providers, and the public."
The FDA wrote a similar statement on their website, although their statement was based solely on the Gardasil vaccine, the HPV vaccination manufactured by Merck.5 They stated that:
Based on the review of available information by FDA and CDC, Gardasil continues to be safe and effective, and its benefits continue to outweigh its risks.

CDC has not changed its recommendations for use of Gardasil. FDA has not made any changes to the prescribing information for how the vaccine is used. In addition, FDA routinely reviews manufacturing information, and has not identified any issues affecting the safety, purity and potency of Gardasil."
They continued that:
Public health and safety are priorities for FDA and CDC. As with all licensed vaccines, we will continue to closely monitor the safety of Gardasil. FDA and CDC continue to find that Gardasil is a safe and effective vaccine that will potentially benefit the health of millions of women by providing protection against the types of HPV in the vaccine that cause cervical, vulvar and vaginal cancer, genital warts, and other HPV-related genital diseases in females."
In other words, the websites of WHO, CDC, and FDA, three main websites that parents and professionals use to research information on vaccination safety, have stated categorically that the HPV vaccination is both safe and effective.
However, according to our research, the HPV vaccine appears to be anything but safe.
WHO's Own Database Lists Tens of Thousands of Adverse Reactions
We say this because whilst researching, we discovered the VigiAccess Database, WHO's very own global database, which records all reported cases of suspected adverse reactions to any drug or vaccine.6
We researched this database for adverse reactions to Gardasil, and were shocked to discover that, so far, there have been a total of 91,209 reports of adverse reactions. Even more shocking, according to their own records, there have been a total of 436 reported deaths, 2669 cardiac disorders, and 38,925 nervous system disorders.
However, this is not all that we discovered, because each of the categories that were listed were hyperlinked and each hyperlink contained a further menu of adverse reactions. For example, when you click the list stating that there had been 2669 cardiac disorders reported, you discover that of these reports, there had been 114 reported cases of arrhythmia, 38 reported cases of cardiac arrest and 580 reported cases of POTS.
What we uncovered was a minefield of what we believe to be extremely worrying information, especially when you consider the fact that, according to the main WHO website, the HPV vaccine is an extremely safe and effective vaccine.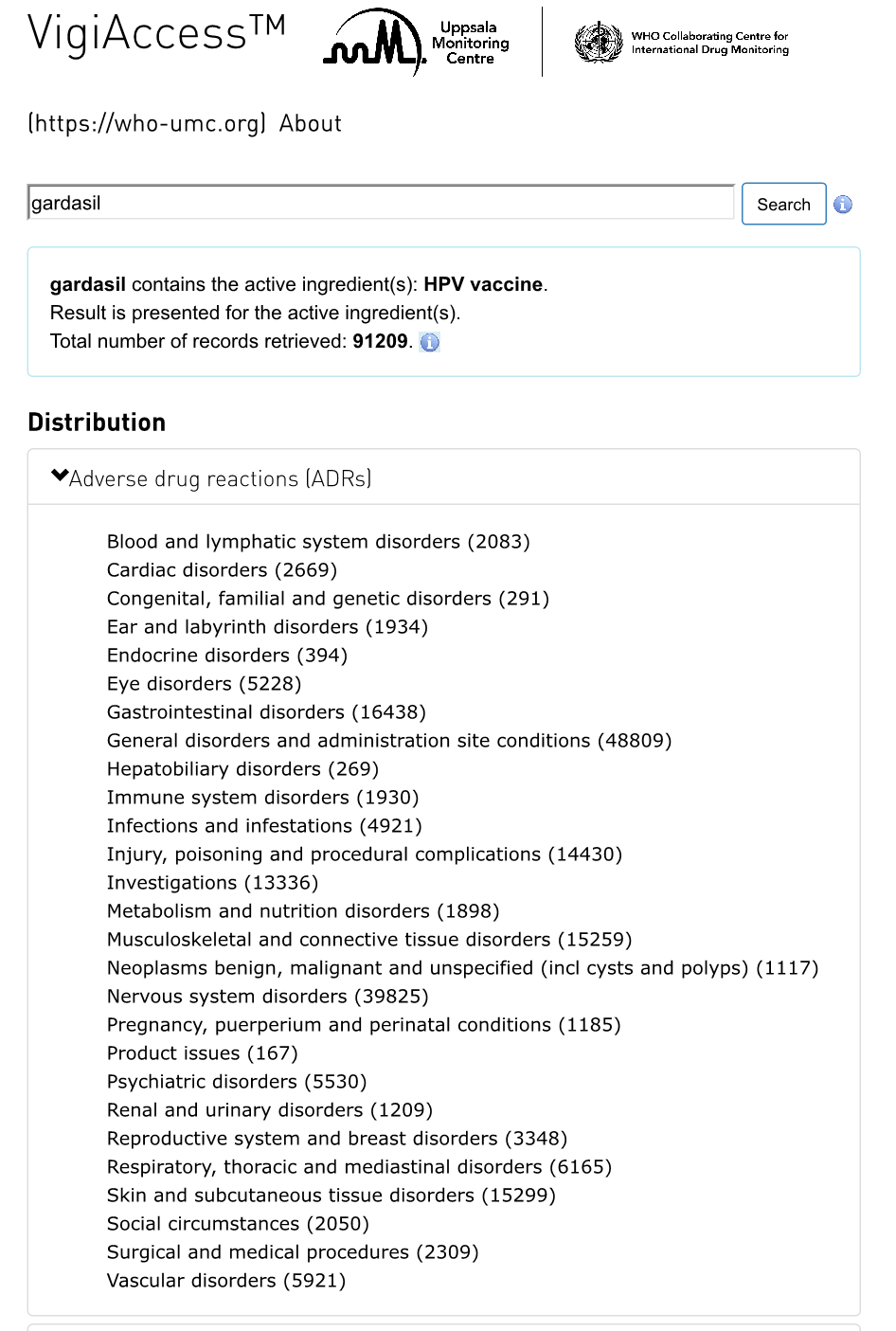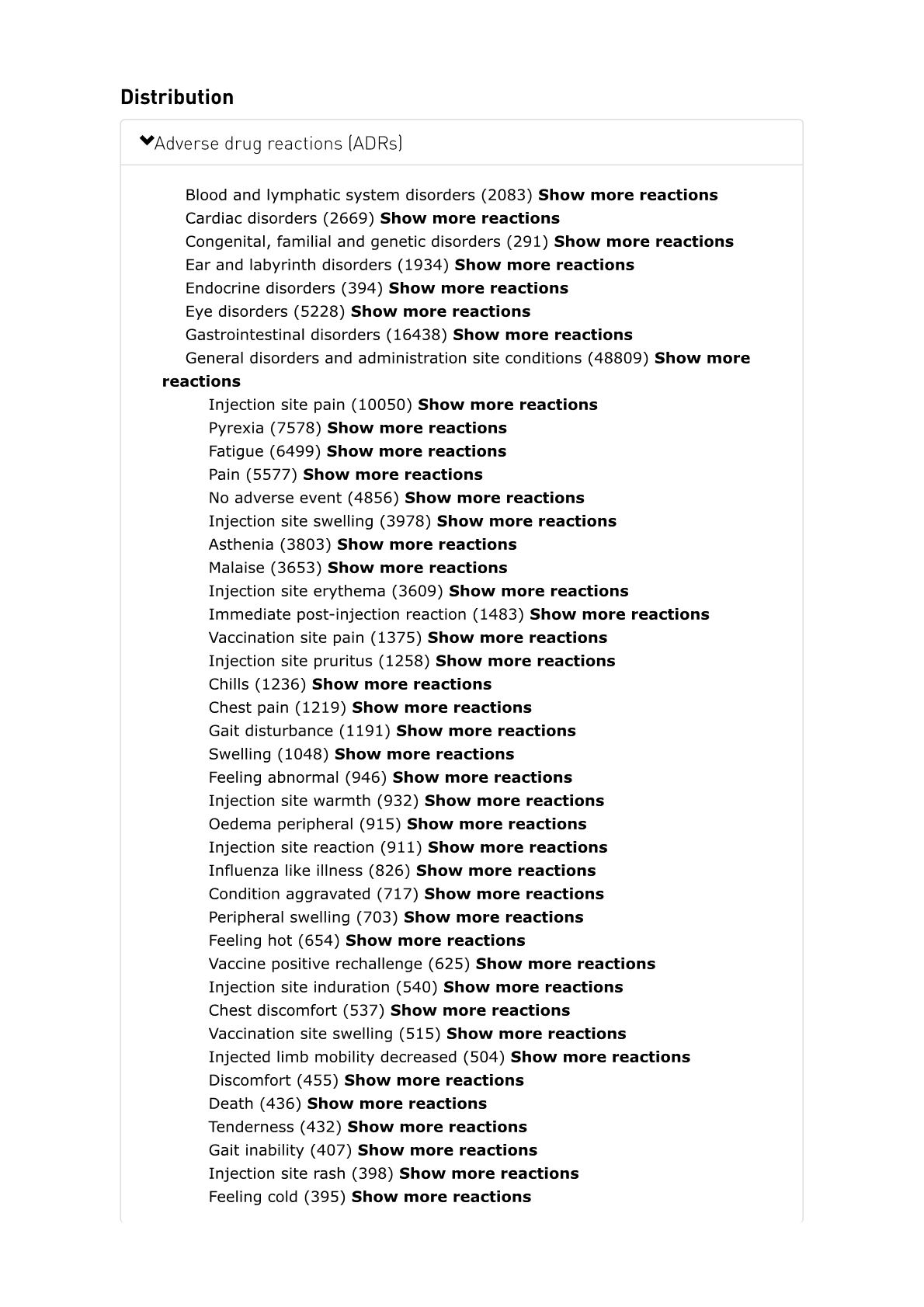 Parents and Professionals Speak Out in Award-Winning Documentary
In September 2017, controversial filmmakers Meditel Productions and Yellow Entertainment launched part one of their three-part documentary written by Joan Shenton and directed by Andi Reiss, titled Sacrificial Virgins.7
Filmmakers portrayed a powerful historical link between the hundreds of thousands of virgins who had been sacrificed for the greater good throughout history and 'modern-day virgins,' young girls vaccinated with the HPV vaccination before they had become sexually active.
The film portrayed powerful connotations from the onset.
Part one, titled "Sacrificial Virgins – Not for the Greater Good," opened with powerful footage of Ruby Shallom, a once-active 16-year-old, who, according to filmmakers, had been left almost totally paralyzed after she had received her first dose of the HPV vaccine, a vaccine which, according to the film's narrator, boasts the highest number of adverse reactions of any vaccine in the UK, a statement supported with a chart.
To highlight just how many girls in the UK, have been injured by the HPV vaccine, in comparison to other vaccinations, the UK Association of HPV Vaccine Injured Daughters (AHVID), supplied us with this image: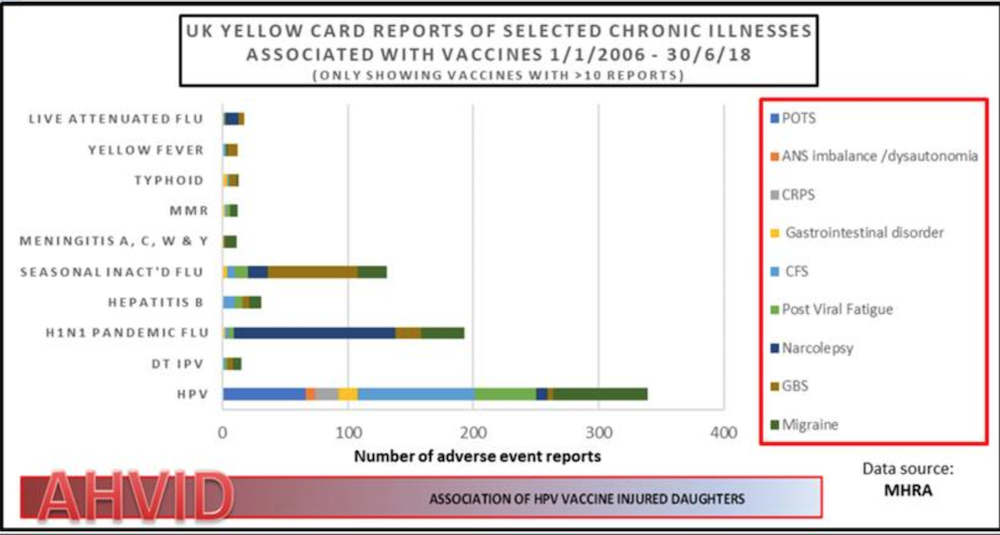 They continued by showing a collage of children and young adults that they say had been injured by the HPV vaccination, a vaccine which, according to WHO, the CDC and the FDA, is extremely safe and effective.
Not only did the filmmakers interview many of the victims injured by this vaccine, but they also interviewed many leading professionals who gave factual evidence to support their claim that this vaccine is indeed unsafe.
Shenton's film was such a success that, for the first time ever, their documentary series won a special jury prize for World Social Impact at the Queens World Film Festival (QWFF) in Queens, New York.8
This success was a testament to everyone who had worked so hard to make this documentary and to all of the injured children and adults who were brave enough to speak out about their injuries.
We asked Shenton what action she would like to see governments take in regards the HPV vaccine. She told us that:
I am not a scientist, but I echo the statements below from doctors and scientists. My personal view, after meeting and speaking to so many victims of the HPV vaccination and their parents, is that the vaccinations should be withdrawn immediately.
Dr. Christian Fiala, socialist in obstetrics and gynecology:
No one has shown that the HPV vaccine actually reduces the rate of cervical cancer."
Professor Peter Duesberg, molecular biologist:
Of course it should be stopped until they have proved that it protects against cancer."
Dr. Hirokuni Beppu, neurologist:
It is not useful. The HPV vaccine is useless because it has a very low risk benefit balance and we cannot differentiate those people who have risk to this vaccine."
These are strong words from Shenton and other experts; words we believe should be taken seriously.
21-Year-Old Christina Tarsell Died Just Days After She Received Gardasil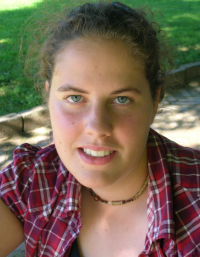 One young lady who lost her life after she received the Gardasil vaccine was Christina Tarsell.
Christina was just 21 years old when she was found dead by her university friends, just days after she had received her third and final Gardasil vaccination.
Her mother, Emily Tarsell told us that:
How would you feel if "health authorities" tricked you into consenting to have your healthy child injected with an undisclosed lethal poison on the pretext that it was safe and would prevent future cancer? They do this not once, not twice, but three times, and when your child suffers and dies from the lethal injections, they callously ignore you, move on with impunity to the next potential victim and cash in on the HPV shots that kill and maim. This scenario is being perpetuated thousands of times and my sweet daughter and only child Christina was one of their victims. How do you think I feel?"
When listening to Tarsell, the enormity of the corruption carried out by our governments and the pharmaceutical industry becomes clear and the horror of Christina's untimely death is made visible for all to see.
Tarsell continued that:
It seems unbelievable that the very agencies entrusted with the responsibility of protecting the lives of children would be so morally corrupt as to lie, even when that could result in crippling or killing youth. But I have awakened to the awareness that the public-private partnership between federal agencies, the medical industry and Pharma has resulted in a corrupt Pharm-autocracy that is all profit driven, consequences be dammed."
We believe that Tarsell is correct and that the pharmaceutical industry is indeed willing to sacrifice our children's lives for profit. When we asked her what she would like to see happen in regards to the HPV vaccination in the future, she answered:
Change is unlikely to come from within the behemoth Pharm-autocracy. It is my hope, though, that consumers, health care providers, attorneys, legislators and reporters will become more aware, more courageous about standing up for truth and justice, and more united in using their power of numbers, the purse and the law to protect our youth."
The Tarsell Family Takes Their Case to Court
Tarsell and her family were so outraged by their daughter's death that they decided to hire attorney Mark Sadaka of Sadaka Associates to file a claim with The National Vaccine Injury Compensation Program (NVICP). This organization, often referred to as the "vaccine court," was set up in 1988 as part of the National Childhood Vaccine Injury Act of 1986. The Act gave legal immunity to pharmaceutical companies for injuries and deaths due to vaccines.9
After many years of fighting, the Tarsell family won their case, and proved that the HPV vaccine was indeed responsible for their daughter's death. Their case has since paved the way for other families to also fight for the justice that they deserve.10
A Second Parent Speaks to TTAV About Her Daughter's Ordeal
Amanda Dew is another mother who is unafraid to speak out. Her daughter Brodie developed several debilitating conditions after she received Gardasil.
Dew stated that:
I had always followed the immunisation schedule for my children. After the HPV vaccine, Gardasil, my daughter developed epilepsy, which, four years later, is still uncontrolled. She has cognitive and memory problems, reduced physical stamina, fatigue, headaches and occasional visual disturbances.

These and other symptoms all appeared within weeks of the second vaccine dose, in a previously fit and healthy teenager."
We asked Dew what impact her daughter's injuries have had on the family. She told us that:
The greatest impact has been on Brodie herself. Studying, writing, and recalling facts all suddenly became difficult. She found that dealing with her bi-monthly seizures has curtailed her independence and her social life dramatically.
As a family, we had to alter our lives to make sure that Brodie was never alone and to get her to the frequent medical appointments. Now, she is coping with life at university and manages her studies with support. I am angry and frustrated with the fact that she has had no investigations and that she is not believed. The sadness about what has happened is always on our minds."
TTAV asked Dew what she would like to see happen regarding the HPV vaccination in the future. She told us that:
In my opinion, this vaccine should be suspended until it is proven SAFE and EFFECTIVE. Currently there is zero proof that it has a positive benefit to a generation of young women."
We believe that Dew is correct, because during our investigation, we uncovered even more evidence to suggest that this vaccine is anything but safe.
Former Vice President of Pfizer Blows the Whistle on the HPV Vaccine
It is not only the parents who are speaking out about the dangers of the HPV vaccine. A growing number of professionals are also speaking out. In September 2017, the website News Punch published an article titled Pfizer Vice President Blows Whistle On Gardasil: "The Vaccine Is Deadly." The author, Sean Adl-Tabatabai, wrote that:
Former Vice President of Pfizer, Dr. Peter Rost, has blown the whistle on the dangers of the Gardasil vaccine – and claims that Big Pharma aims to keep people unhealthy."11
News Punch explained to readers that Dr. Rost had made these claims in the HPV vaccination documentary One More Girl.12
Would Parents Still Agree to the HPV Vaccine if They Knew that 1 in 50 Recipients Would Be Injured?
Leading biologist and expert on aluminum Professor Christopher Exley is another professional who has serious concerns about the HPV vaccine.
When questioned about the HPV vaccination, in an interview that I conducted at UK's Keele University, Exley explained to me that in regards to the use of aluminum in a vaccine, there has never been any sort of safety trial. He stated that:
There has never been any sort of regulation, so you can use it as much, or as little, as you wish, without having to demonstrate its safety."13
Concerned about this fact, I asked Exley, if a parent were looking into the vaccine, what would he recommend that they do, before having their child vaccinated? He replied that:
This raises an important point because I have a colleague, here at Keele University, who recently published a paper about what parents thought about their boys receiving the HPV vaccine, and she did some sort of survey actually funded by the Welcome Trust, beyond belief, where she essentially asked parents, do you think it is a good idea not only for your daughter to receive the HPV vaccine but also your son? And the overwhelming, apparently, their reply to this was yes, of course, it seems like a great idea, why not?"
Exley told me that after the paper had been published, he asked the psychologist who had written the paper what information had been given to the parents about the possible serious adverse events, and was informed that the parents not were not told anything about the possible side effects or given the patient information leaflet, which comes with every vaccine, in which Merck acknowledged that the vaccine can cause a wide range of adverse events.
Shocked by their reply, Exley asked:
Now, if parents knew that 1 in 50 recipients of the HPV vaccine will get ill following it, and that that illness can be anything from a debilitating illness, like paralysis of the arm, through to death, would they then think that taking a vaccine, taking something when you're perfectly healthy, is worth it or not, and would the results have been the same?"
We believe that Exley is correct, and that all parents should receive the full information about any vaccine before they allow their child to be vaccinated.
Alliance for Natural Health Provides Further Evidence of Harm
If you still believe that the HPV vaccine is safe and effective, then we suggest that you watch the hour-long documentary that was released in November 2018.
The film, powerful from the onset, is titled Manufactured Crisis: What they are Not Telling You About the HPV Vaccine, and was produced by the Alliance for Natural Health, (ANH) in collaboration with Sanevax, the UK Association of HPV Vaccine Injured Daughters (AHVID), the Danish Association of HPV Vaccine Victims, and the Spanish Association of People Affected by HPV Vaccine (AVVP).14
Manufactured Crisis is probably the most powerful documentary on vaccination injury that has ever been made. The Alliance for Natural Health has not held back, as family after family outlined their own personal experience of how the HPV vaccine destroyed their lives forever.
Professionals Give Damning Evidence Against the HPV Vaccine
The executive director for Focus for Health, Shannon Mulvihill, stated that:
If you have a girl who has been exposed to HPV and then she goes and gets the vaccine, the pre-licensing data from Merck shows that they are 44.6% more likely to develop cervical lesions. That's insane, that … despite that evidence, the FDA still allowed Merck to fast track that vaccine to market, even though it showed that can it can increase cancer rates."
Dr. Damien Downing stated:
It's a very weird state of affairs at the moment, it seems that there has been a myth that has developed, of a magical vaccine. I say magical because we are assured that it is completely safe. What the heck does that mean? I mean, does that mean that it is impossible for the vaccine to have any ill effects? That seems to be what is being claimed."
He added that when you talk about a vaccine being completely safe, you are stopping doctors from thinking. Dr. Sin Hang Lee stated that:
Even if vaccines are 100% effective with these particular strains, ONE death would be prevented (out of 100,000 vaccinated women; 1.3 with newer versions)."
He also stated that, even then, that one death could have been prevented with better cervical cancer screening.
Strong words, however, we believe that the most powerful statement came from Dr. Peter Gotzsche, who stated that:
What drives me is to give people as honest information as possible and certainly, this is not what the general population has received, so far."
Surely, it is about time that the general public did receive the true facts about this vaccination, from organizations such as WHO, the CDC and the FDA, because, according to our research, this vaccine is anything but safe and effective.
We would like to leave you with this short video, which demonstrates just how much our governments really care about the young women injured by this vaccine.
The meeting outlined in this clip, was held in Galway, Ireland, on August 23, 2016. The speaker, was UK's Professor Margaret Stanley, OBE, who had been invited by the Irish Cancer Society, to give a public information talk on the safety of the HPV vaccination.

Ty and Charlene have been on this mission together to reach as many people around the world with the truth that saves lives as they can, and
they need your help!
As you know, they are being censored with many other truth tellers. Please support their mission by
sharing this article
! Next, you can support them by going to
www.thetruthaboutcancer.com
and
signing up
for their FREE Newsletter! Also,
join Ty & Charlene
on Alt Social Media platforms where the TRUTH is allowed and join the discussion there!
Follow, Subscribe, & SHARE: