TTAV is experiencing heavy censorship on many social media channels since we've been targeted by the mainstream media sellouts, social media bullies, and political turncoats.  Be sure to get the TRUTH by subscribing to our email list.  It's free.

by Ty & Charlene Bollinger
The Vaccine Adverse Event Reporting System, or VAERS, has been in place since 1990 as a way for healthcare providers to document adverse reactions to vaccines. While imperfect in many ways, VAERS provides an early warning for potential health risks of vaccines. In recent weeks, VAERS has reported over 1,600 deaths related to the COVID vaccines manufactured by Moderna and Pfizer.
VAERS and the True Cost of COVID Vaccines
It has been quite a year. At this point in 2020, we still had plans to watch the March Madness tournament, people around the world were gearing up to celebrate St. Patrick's Day, and millions of hardworking Americans were still employed. We were told that the lockdowns, mask mandates, and utter destruction of the world's greatest economy were necessary.. And temporary.
Vaccines have been touted by virtually every health agency in the world as our only path back to normalcy. The vaccines were rolled out in record time, skipping important clinical trials and completely devoid of any comprehensive safety studies. Since the first dose was administered on December 14th, early data suggests that we have made a terrible mistake.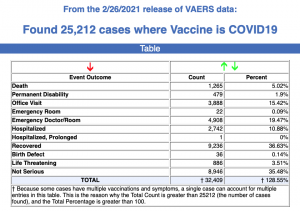 With about 98 million doses administered so far, VAERS data suggests that the death toll is somewhere around .003% of those vaccinated. But that number is likely much smaller than the reality.
First, it's important to know that VAERS is a passive monitoring system, meaning doctors are not required to report adverse events. Several studies have suggested that as few as 5% of all adverse reactions are reported. Using that number to extrapolate the current data, the true number of deaths from the COVID vaccines may be as high as 32,740, or somewhere around .05%.
Current data tells us that about .03% of the global population have died from COVID-19. In the United States, that number jumps to about .16% of the population.
Virus vs Vaccines: Understanding the Numbers
Perhaps the most important question to ask ourselves is: Is the vaccine more likely to kill me than the virus? After all, the entire point of fast tracking these vaccines and using billions of tax dollars to deliver and administer them is to protect us from COVID-19.
And, at first glance, it would seem that the vaccine is still safer than the actual virus. A mortality rate of .05% is higher than the global COVID-19 mortality rate of .03%, but notably lower than the U.S. rate of .16%. But can we trust those numbers?
The most likely explanation for the high mortality rate in the U.S. is simple: false reporting. According to recent data from the CDC, only 6% of deaths attributed to COVID-19 can actually be attributed to the virus. The other 94% were accompanied by other co-morbidities, such as late-stage cancer, immune disease, and injuries.
If a person dies and tests positive for the virus, they're added to the body count. However, that's scientifically irresponsible at best and criminally negligent at the worst. If an elderly person comes in with health issues, passes away, and is diagnosed with the virus, they are added to the number of people killed by COVID-19 – EVEN IF THEY HAD OTHER SEVERE UNDERLYING CONDITIONS!
To put that into perspective, there have been reports of people around the country dying from car accidents, drowning, or premature birth who have been counted among the coronavirus victims. And while it's unlikely that only 6% of reported deaths were primarily caused by the virus, it may be true that as few as 20% of reported fatalities were actually caused by COVID-19.
That would make the total death rate of COVID-19 in the United States approximately .03% – precisely the same mortality rate reported by the rest of the world. Based on all of this information, it looks as though the new vaccines are 67% MORE LIKELY to kill you than the virus itself.
And that should scare you. Because the reality is that this virus has essentially "made the rounds" already. According to HealthLine, the risk of becoming infected with the virus a second time is roughly one-fifth the risk of getting a first infection. And as infection rates plummet, so does the death toll.
But vaccines are headed in the opposite direction. We're currently in the midst of a massive push to vaccinate the entire global population, with more than 2.2 million doses administered each day in the United States. Compare that with the roughly 45,000 new cases reported each day, and you can see that we are vaccinating almost 50 times more people than are actually contracting the virus.
If there truly is a .05% mortality rate for recipients of the vaccine and a .03% rate for those who contract the virus, we could be signing a death warrant for over 100,000 people a day… 81 times more than the projected mortality rate of the virus itself.
What About Other Side Effects?
These numbers fail to include other adverse reactions, which can be devastating for patients.
As of March 5th, 265 pregnant women had reported adverse reactions to COVID vaccines, including 56 reports of miscarriage or premature birth. None of the COVID vaccines approved for Emergency Use Authorization (EUA) have been tested for safety or efficacy in pregnant women. Yet health officials are urging pregnant women to get the vaccine, and many are enthusiastically doing so.
The World Health Organization on January 27th issued guidance advising against pregnant women getting Moderna's COVID vaccine — only to reverse that guidance two days later, as The New York Times reported. Pfizer announced last month that it was beginning COVID vaccine trials for pregnant women, but they don't expect the trials to wrap up until January 2023.
This week's VAERS data also included 1,414 reports of anaphylaxis, with 60% of cases attributed to the Pfizer-Bio-N-Tech vaccine and 40% to Moderna, and 298 reports of Bell's Palsy.
As of February 26th, only the Pfizer and Moderna vaccines had been approved for emergency use in the U.S., but the U.S. Food and Drug Administration this week gave Johnson & Johnson's COVID vaccine approval for emergency use. The one-shot vaccine started rolling out this week.
On March 3rd, The New York Times reported that some people are experiencing an "angry-looking skin condition" after their first dose of the COVID vaccine –– with arms turning red, sore, itchy and swollen a week or more after the shot. Doctors said they wanted to share the information to "help prevent the needless use of antibiotics and to ease patients' worries and reassure them that they can safely get their second vaccine shot."
Dr. Hooman Noorchashm, an accomplished surgeon and patient safety advocate, wrote a second letter to the FDA urging the agency to require pre-screening for SARS-CoV-2 viral proteins in order to reduce COVID vaccine injuries and deaths. Noorchasm argued that at least a fraction of the millions of already infected Americans — especially the elderly, frail and those with serious cardiovascular comorbidities — are at risk of being harmed by a dangerous exaggerated immune response triggered by the COVID vaccine.
But it's important to remember that these are more than statistics and projections. The numbers we've discussed represent real people who may be at substantial risk if they receive the vaccine… and many who have already paid a heavy price.
Vaccine Safety is A Human Problem
According to News Channel 11, WHJL:
Dr. J Barton Williams, called a student of medicine and science, went from doctor to patient when he fell ill weeks ago. Dr. Stephen Threlkeld helped treat him at Baptist Hospital. Threlkeld says the disease quickly went from diagnosis to death. "It was a matter of days," Threlkeld said. "Just a tragedy." Williams, an Orthopedic Surgeon for OrthoSouth, died February 8 of multisystem inflammatory syndrome or MIS, a condition usually affecting children and attacking the immune system. "The immune system attacks the body in many ways and causes multi-organ system failure," Threlkeld said. "It affects the heart, the gastrointestinal tract and other places." Threlkeld says Williams tested positive for COVID antibodies, meaning he had COVID at one time, but he never knew it. And he had gotten his second COVID vaccine just weeks before his death. "It does seem to be in every case we have seen so far to be related to the virus itself," Threlked said. "It's a post-viral, sometimes a few weeks later, a post-viral effect. Not during the first part of it."
According to Channel 2, KUTV:
Kassidi Kurill, by all accounts, was healthy, happy and "had more energy" than just about anyone else around her. Her family told reporters that she had no known health problems or pre-existing conditions. Four days after Kurill's second dose of the COVID-19 vaccine, she was gone — dead before most of her family could say their goodbyes. According to her father, Kassidi "got sick right away, soreness at the shot location, then started getting sick, then started complaining that she was drinking lots of fluids but couldn't pee, and then felt a little better the next day." A few days after her second shot, she knew something was wrong. She woke up early, got ready, and asked her dad to drive her to the local emergency room, where they arrived by 7 a.m. As soon as they walked in the door, Kurill was throwing up. Minutes later, questions were raised about what was making her so sick. 30 hours later, Kassidi was gone. Unfortunately doctors admit that the chances of attributing death to a vaccine are practically zero. Dr. Erik Christensen, Utah's chief Medical Examiner, can think of only one instance where you would see a vaccine as the cause of death on an official autopsy report, and that would be in an immediate case of anaphylaxis — one where a person received the vaccine and died almost instantaneously, he said. "Short of that, it would be difficult for us to definitively say this is the vaccine."
A more likely result would be a lack of answers or an "incomplete autopsy."
And that's our biggest problem. As long as doctors and health agencies refuse to acknowledge the risks of these untested vaccines, patients will be left in the dark. The gross under reporting of adverse reactions – combined with a falsely inflated death count for the virus – has allowed groups like the CDC to convince the masses that vaccination is safe and necessary.
But that is an impossible claim to make… and one that seems to be increasingly untrue.
We don't trust these vaccines. We don't trust the "authorities" who are working so hard to administer hundreds of millions of doses over the next 2 months. And we're 100% willing to gamble that the vaccine is much more dangerous than the virus.
In fact, we'd bet our lives on it.

Ty and Charlene have been on this mission together to reach as many people around the world with the truth that saves lives as they can, and
they need your help!
As you know, they are being censored with many other truth tellers.Please support their mission by
sharing this article
! Next, you can support them by going to
www.thetruthaboutcancer.com
and
signing up
for their FREE Newsletter!Also,
join Ty & Charlene
on Alt Social Media platforms where the TRUTH is allowed and join the discussion there!
Follow, Subscribe, & SHARE: